Bridge
Prachecny (Laundry ) bridge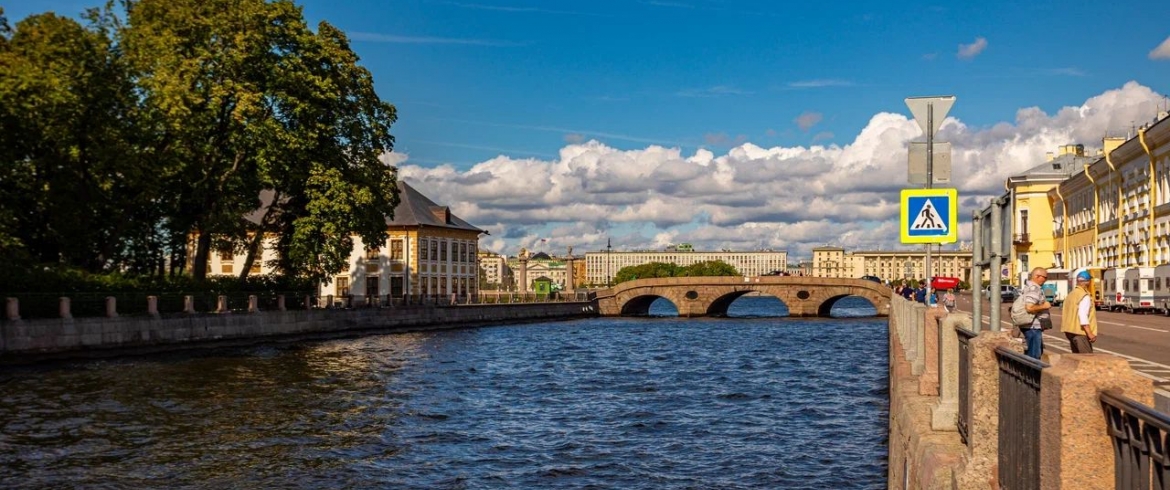 Architect
I.L. Rossi, T.I. Nasonov
Laundry Bridge is a bridge in St. Petersburg over the Fontanka River in a place where it flows out of the Neva River. Laundry Bridge connected the banks of the Fontanka River in a time when the Palace Embankment dressed in granite. It connects Kutuzov Embankment and the Palace Embankment. It is one of the first stone bridges built in St. Petersburg.
This is not just a bridge, but an architectural creation of its time. It was constructed in a time when baroque gave way to classicism. In the eighteenth century wooden structures did not used in bridge construction. Since the embankments were covered with stone and faced with granite, then crossings over the rivers should be built in the same way.
The initial project was drawn up in 1762 involved the construction of three-span stone bridge with a wooden draw span. However, in the final project of the embankment the bridge became a fixed one.
The bridge was built during the period of 1766-1769, simultaneously with the construction of granite embankments near the Summer Garden. The name of the bridge was due to its proximity to the palace laundry, located on the corner of Chaykovskogo Street.
It was a three-span stone arched bridge. The spans of the system were represented by hingeless arch, and according to the design - the fixed stone vault, outlined by compound curve, faced with granite. The centre arch was wider and higher then symmetrical side arches. There were stone granite abutments and supports on pile foundation.
Oval hatches (holes) were arranged above the intermediate supports to the masonry lightening. The railing was made of solid granite parapet. Granite slabs were laid on the sidewalks. The roadway was separated from the sidewalks by granite gutter and curb. The bridge approaches were decorated with granite stair descents.
The bridge saved this appearance until 1908, during the period of 139 years, when significant deformation under due to settlement of supports was found after inspection. The results of pile foundation inspection by divers showed that deformation led to settlement of the middle span, openings of joints in parapets (that is why they lost their previous form), formation of cracks on the left river pier, and etc.
In 1926 a major repair of the bridge under the project of engineer B.D. Vasilyev was carried out. Repair of pile foundation by setting of concrete slabs instead of a wooden raft foundation was made without changing the structural and architectural forms, except of the bridge roadway angles mitigation.
Today, Laundry Bridge continues to faithfully serve the modern St. Petersburg. This section of the Neva Embankment with granite facing is an evidence of that distant era. Architectural creation, its power, delights. It is a pleasure to go upstairs and walk across the bridge, looking around the vast expanses of the panorama.
The bridge is guarded by the Committee on State Control Use and Protection of Historical and Cultural Landmarks. The bridge is kept its original appearance up to date.