Знаменитое здание
Vosstaniya square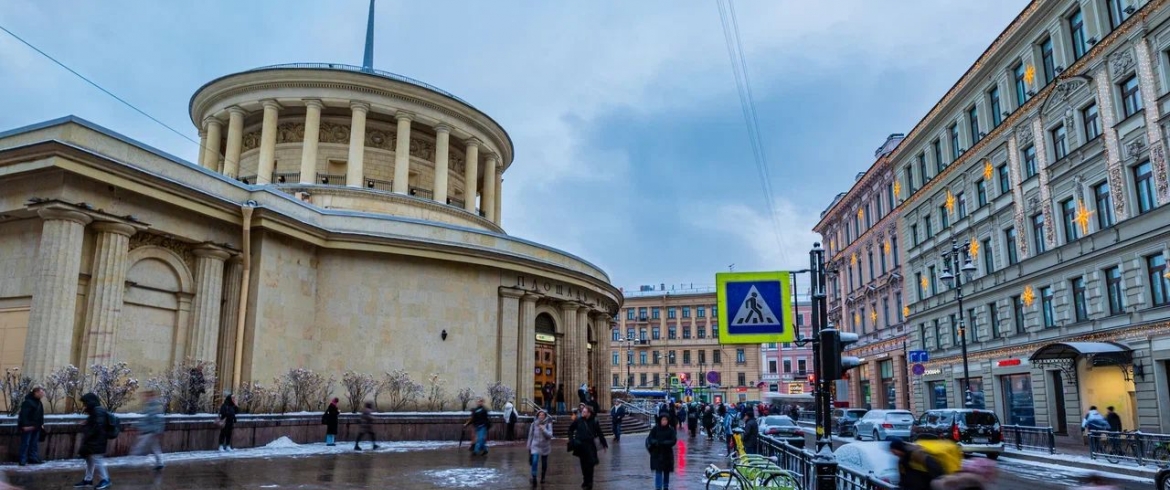 Years of foundation
1955, 1960
Architects
V.V. Gankevich, B.N. Zhuravlev, I.I. Fomin, engineer E.A. Erganov (1st lobby), A.S. Getzkin, V.P. Shuvalova (2nd lobby)
The station of the 1st (Kirovsk-Vyborg, Red) line, one of the first metro stations in St. Petersburg, was opened on November 15, 1955 as part of the first stage of the Avtovo metro - Ploshchad Vosstaniya. It is named after the square of the same name.
The station has two vestibules - on the square itself and on Ligovsky Prospekt near the Moscow station. Pavilion on The uprising sq. was erected in 1955 on the site of the demolished Znamensky Church. The project was developed by architects V.V. Gankevich, B.N. Zhuravlev, I.I. Fomin and engineer E.A. Erganov. It is decorated in a classic style - a round building with risalits attached to the sides. The building, which is one of the symbols of the St. Petersburg metro, completes the rotunda with a spire, which was crowned with the letter "M" ("Metro"). The letter was later lost.
Under the project of the same authors, the underground hall of Uprising Square was also designed. Architects preserved the configuration of the tunnel, trying to use the hall space with maximum efficiency. The basement, lined with red Ural marble, rises to a height of only 1.05 meters, on top of it is limited to a stucco molding. This is the lowest base among the stations of the St. Petersburg metro.
The arch of the central hall is intersected by white stucco arches, with light arches built into them. The rich decorative decoration used elements of the architecture of the Classicism era. From the side of the central hall, the pylons are decorated with decorative grilles in round ventilation openings and bas-relief medallions.
Between the interchange escalator and the exit to the Moscow station, four bas-reliefs on the subject of the October Revolution of 1917 are placed on the pylons of the central underground hall.
The second lobby of the metro station with exits to Moskovsky Station and Ligovsky Prospekt was opened in 1960, architects A.S. Getzkin and V.P. Shuvalova.
From the Ploshchad Vosstaniya station, you can go to the Mayakovskaya station of the 3rd (Nevsko-Vasileostrovskaya, Green) line. Crossing is via a pedestrian tunnel or escalators.