Знаменитое здание
Aleksandra Nevskogo Square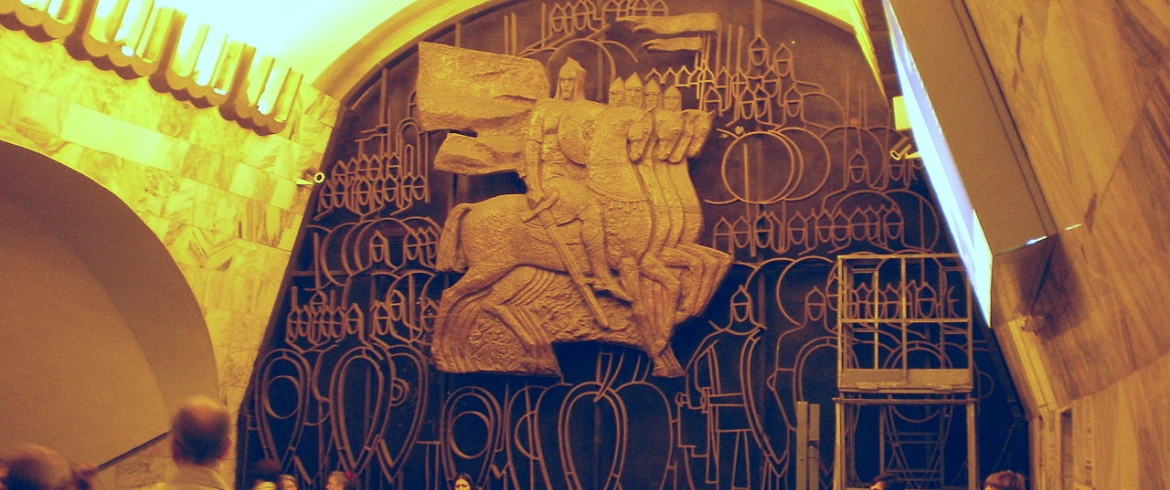 Address
sq. Alexander Nevsky, Hotel Moscow
Architects
A.S. Getzkin, V.P. Shuvalova (pavilion), L.P. Lavrov, T.V. Shishkova, V.G. Shishkov, engineer O.V. Greitz (underground hall)
Station of the 3rd (Nevsko-Vasileostrovskaya, Green) line was opened on November 3, 1967 as part of the Vasileostrovskaya section - Alexander Nevsky Square. The name of the station was given by the eponymous square, and by the Alexander Nevsky Lavra.
The history of the ground lobby is interesting, which now looks like it is built into the building of the Moscow Hotel, however, when the station was built, the hotel was not there. Metro pavilion designed by architects A.S. Getzkina and V.P. Shuvalova, was a typical round squat building with a dome and glazed entrances. In 1974, a hotel was erected around it, and the pavilion was "absorbed" in the new building.
Inside, the lobby is decorated with dolomite, marble, ceramic tiles and wood. Passengers first enter the rounded corridor, on the sides of which there are ticket offices, and then into the round escalator hall with a domed ceiling. In 2008, a passage was opened from the lobby to the Moskva shopping center.
"Alexander Nevsky Square" is one of 10 closed-type stations in St. Petersburg, the so-called "horizontal elevator". It has no side platforms, the central hall is fenced off from the paths by a wall with sliding doors, like in an elevator, through which the landing is made.
The underground hall was designed by architects L.P. Lavrova, T.V. Shishkova, V.G. Shishkov and engineer O.V. Greitz. The composition of the underground hall of the station is given some originality due to the inclination of the walls inward. The walls of the hall are faced with white marble.
From the station "Alexander Nevsky Square" through the pedestrian tunnel, stairs and escalators you can go to the 4th (Right Bank, "Orange" line). In the transition is an artistic composition "Alexander Nevsky" by sculptors E.R. Ozola, I.N. Kostyukhina and V.S. Novikov. The relief copper panel depicting the old Russian prince's squad received the national nickname "Five Men on Four Horses" due to a mistake in the composition (count the number of horses and the number of heads yourself!).