Знаменитое здание
Petrogradskaya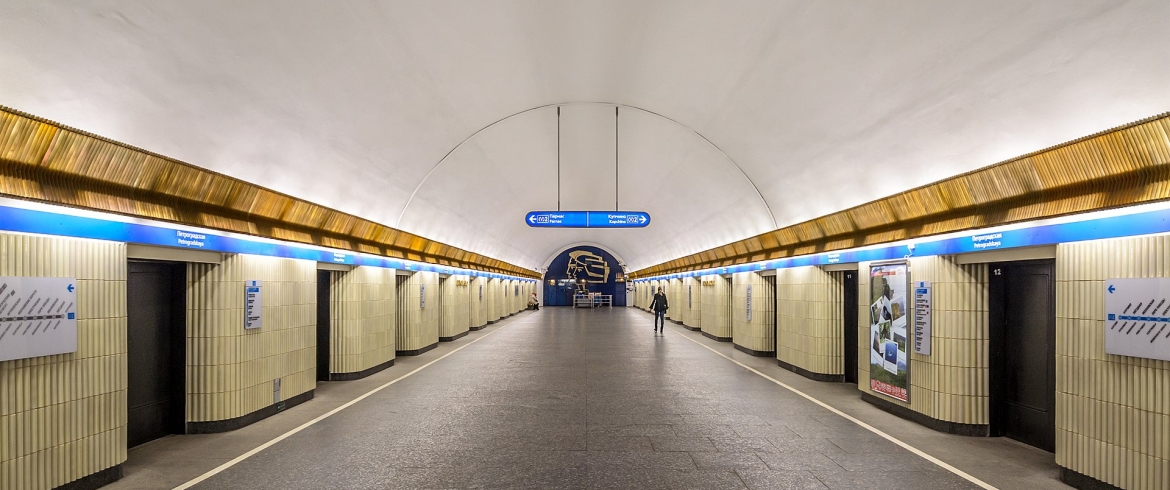 Address
Kamennoostrovsky pr., 37
Architects
V.F. Belov, A.V. Govorkovsky, V.L. Rivin, N.N. Tregubov, L.I. Shimakovsky (underground hall), A.K. Andreev, Y.E. Moskalenko (lobby)
Station of the 2nd (Moscow-Petrograd, Blue) line was opened July 1, 1963 as part of the Technological Institute - Petrogradskaya section. Received the name by the Petrograd side.
"Petrogradskaya" is interesting in that it is a closed-type station - the so-called "horizontal elevator". It has no side platforms, the central hall is fenced off from the paths by a wall with sliding doors, like in an elevator, through which the landing is made.
The first "horizontal elevator" in the world was the Leningrad Metro station "Victory Park", which opened on April 29, 1961. The second station of this type in the world was also built in Leningrad, and it was Petrogradskaya.
The underground hall was designed by architects V.F. Belova, A.V. Govorkovsky, V.L. Rivina, N.N. Tregubova and L.I. Shimakovsky. The corrugated surface of the walls of the front hall is made in the form of ceramic lining. The end wall is decorated with a golden decorative panel, which shows the profiles of a worker and a peasant woman by G.N. Vasilieva.
The lobby of the station is built into the building of the Fashion House, the project was developed by architects A.K. Andreev and Ya.E. Moskalenko. Initially, a stained-glass window in six paintings, reflecting the history of fashion, was placed above the escalator passage. Each painting depicted a man and a woman dressed in costumes of various eras (skins of the ancient world, a knight and his lady, etc.). The stained-glass window was destroyed on December 31, 1993 as a result of an explosion in one of the shops that rented the premises in the Fashion House.
Kamennoostrovsky and Bolshoi Avenues, located near this metro station, are famous for their numerous architectural monuments of St. Petersburg Art Nouveau.