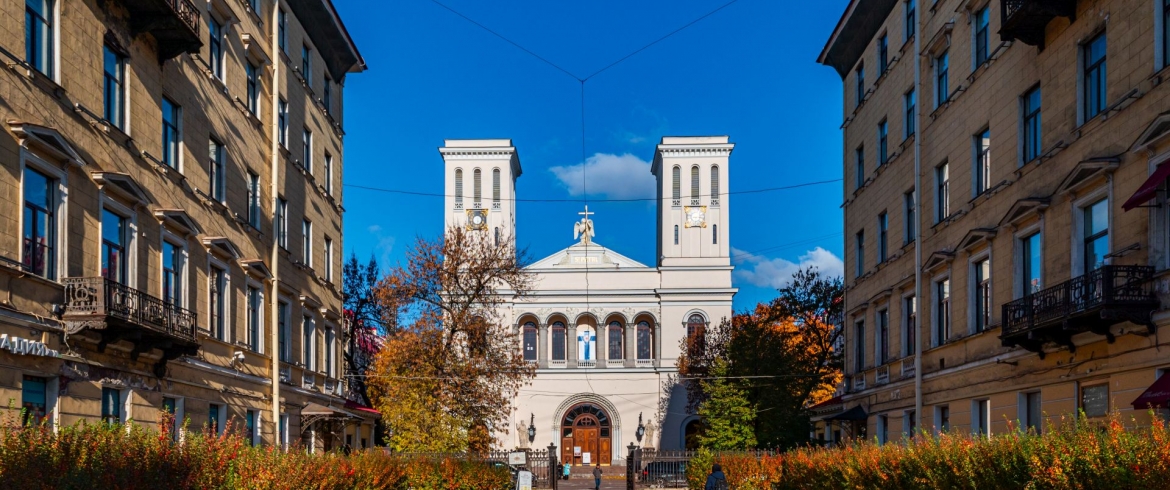 Address
Nevsky prospect, 22-24
Years of foundation
1833–1838
Architect
Alexander Brullov
Style
classicism, neo-Gothic
An active temple of the Evangelical Lutheran Church
In 1727 Peter II gave the German Lutheran community a land in the desert territory of the Nevsky Prospect. The building of the temple was laid on June 29th, 1728, the day of the apostles Peter and Paul. The first church was brick, had a wooden turret and housed 1500 people. In 1832 when the building was dilapidated, the community announced a tender for the design of a new church project. The project of Alexander Bryullov, the brother of the famous artist, was the best. The old building was demolished in the summer of 1833, at the same time a new one was laid. In October 1838 a new church was consecrated.
The altarpiece of the church of Saints Peter and Paul was decorated with a painting depicted a crucifix by Karl Bryullov. In the lower part of the altar there was a painting by Holbein Jr. "Jesus with doubting Thomas". There were round images of Saints Peter and Paul on both sides of the altar, by Bryullov as well. In 1840 there was installed a large organ by the Valker company (Ludwigsburg, the Kingdom of Württemberg) in the church. In 1863 in the western tower appeared the bells made in Bochum (Westphalia), and in 1864 two stained-glass windows were donated to the temple.
The church is known for the fact that during Soviet times it was rebuilt in a swimming pool. Since 1993 the temple became active again and has been restored. The traces of the swimming pool have partially remained in the guise of internal premises. Today the pool basin serves as a reminder of the tragic pages of history.
Индивидуальные экскурсии по городу и пригородам на автомобиле и минивэне
Петербург для тех, кто ценит комфорт и внимание
Заказать