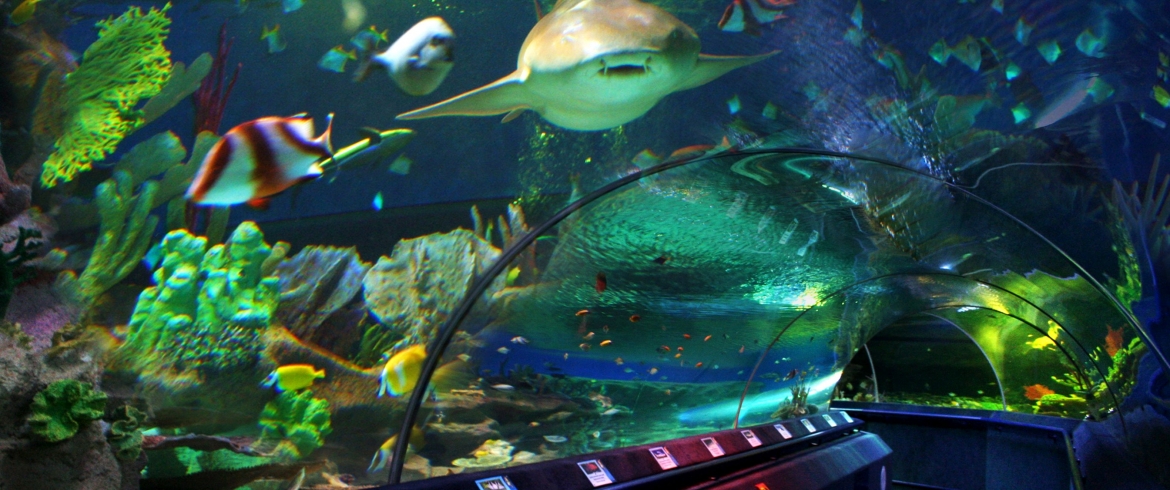 Entrance fee
Adults: 700 rub. (in June – August 750 rubles), children from 7 years old, schoolchildren and students of the Russian Federation: 500 rubles. (in June – August 550 rubles), children 5-6 years old: 250 rubles, children under 4 years old: free of charge.
The St. Petersburg Oceanarium is an "underwater museum" with live exhibits - inhabitants of the aquatic environment. Located in the shopping and entertainment complex "Planet Neptune."
The aquarium, designed by the Finnish architect Hanu Laitilla, opened on April 27, 2006. Its total area is 5000m2. There are 57 aquariums with a capacity of 10 to 750 liters of water. The largest aquarium has an underwater tunnel with a moving track of 35 meters. The depth of this aquarium is 3 to 5 meters, and the thickness of acrylic glass is 8 cm.
The unique live exposition of the Oceanarium allows to demonstrate the beauty and complexity of the underwater world - the collection contains more than 2 thousand copies of freshwater and marine fish, aquatic invertebrates, mammals belonging to more than 200 species.
Here you can spend several hours watching the inhabitants of the underwater world. Colorful fish, bright frogs, motionless slopes and graceful sharks will calm down with their serenity, and clumsy seals and curious faces of Asian otters will make you smile with emotion!
The expositions are constantly updated, therefore, even those who have visited the Oceanarium more than once, there is always something to see. Each visitor can not only immerse himself in the atmosphere of the underwater world, but also become a spectator of interesting "performances" in which the actors are sharks, rays and seals. Shows featuring these amazing inhabitants take place every day except Monday. The third Monday of every month at the Oceanarium is a sanitary day.
There is a marine souvenir shop at the Oceanarium.