Bridge
New Stone (Novo-Kamenny) Bridge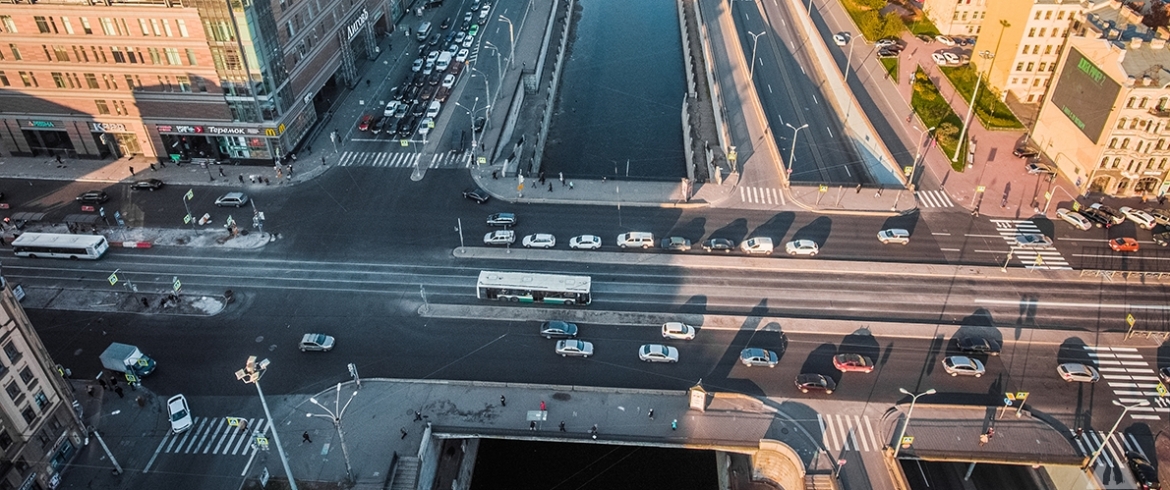 Opened in
1821 (stone aqueduct), 1970 (modern bridge)
New Stone Bridge (former Yamskoy Water-Pipe Bridge - until the XIX century, Novo-Obvodny Bridge - 1836-1868; Kamenno-Obvodny - 1836-1844; Novo-Kamenny Bridge - 1865-1917) was spanned across the Obvodny Canal on Ligovsky Prospect of St. Petersburg.
Construction of the first bridge started immediately after the Obvodny Canal laying. At that time, in the 1800s, Ligovsky Prospect also represented the canal in which the water level was significantly higher. For its laying not just an overpass but an aqueduct was built above the new water structure. A wooden bridge-aqueduct derived the name Yamskoy Water-Pipe Bridge from Yamskaya Sloboda located nearby.
In 1816-1821, under the project of P.P. Bazen, single-span aqueduct was built there with granite arch with length of 25.6 meters.
In 1848, after the construction of the Obvodny Canal, the wooden bridge was rebuilt in a stone arched one in the form of a continuous single-span arch faced with granite. The bridge had stone abutments on pile foundation faced with granite. The U-shaped structure that was a continuation of the Ligovsky Canal and enclosed with cast iron railings was laid above the superstructure arch.
In 1891 the canal on the bridge was dismantled and covered with sand. The roadway of the bridge was widened by transferring of sidewalks onto the consoles. Railings were decorated with art casting grating.
In connection with the intensive housing development in Moscowsky District, Kupchino and Avtovo value of Ligovsky Prospect as a transport route linking the southern areas of the city with its centre has increased significantly by the 1950s. The load on the old Novo-Kamenny Bridge also increased. Its width was only 14 meter of which 5 meters was occupied by tram tracks. In addition, traffic flow on the Obvodny Canal Embankment also increased.
In 1968-1970 the bridge was rebuilt in a single-span reinforced concrete one in the form of three-hinged frame made of prefabricated elements.
The bridge abutments are reinforced concrete ones on pile foundation, and faced with granite.
In 2007 major repair of the tram tracks was performed: waterproofing was replaced; and new rails were laid.
Today the bridge width allows providing three-line car traffic in each direction. In addition tram tracks was freely laid onto the bridge in a special bed as well as pedestrian sidewalks up to six meters in width.