Знаменитое здание
Nevsky Prospect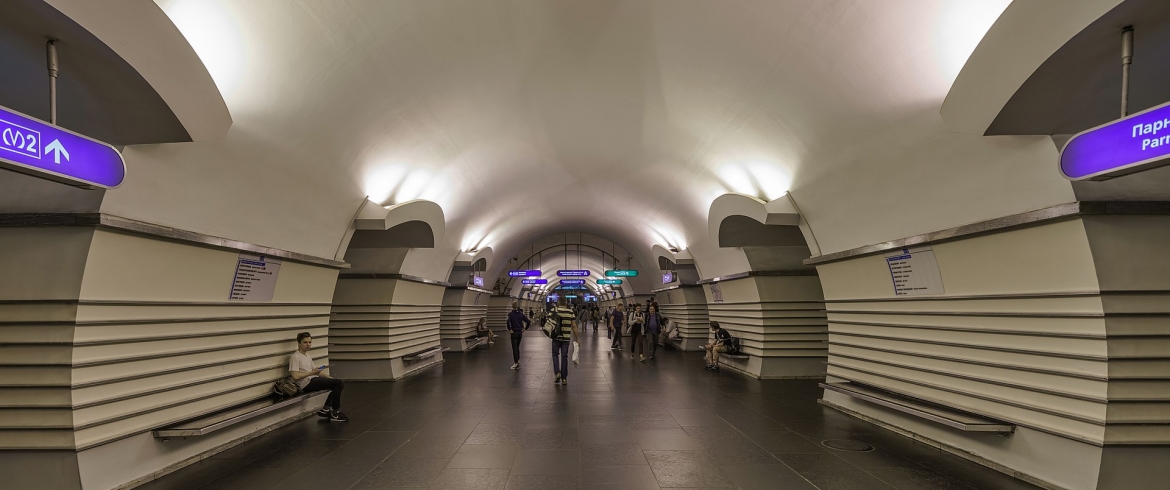 Architects
A.K. Andreev, A.S. Getzkin, V.P. Shuvalova, S.G. Mayofis, engineer B.D. Maximov
Station of the 2nd (Moscow-Petrograd, Blue) line was opened July 1, 1963 as part of the Technological Institute - Petrogradskaya section. It is named after the main St. Petersburg highway on which it is located.
Nevsky Prospect became the first metro station in Leningrad that does not have a ground pavilion - a long underground passage leads to it, with access to Mikhailovskaya Street and Nevsky Prospect. The lobby and the underpass of the station were designed by architects A.K. Andreeva, A.S. Getzkina and V.P. Shuvalova.
This station is also known for the fact that during its construction two historic buildings on Dumskaya Street had to be demolished - the Gauges of Giacomo Quarenghi (1800s) and the portico Luigi Rusca (1806). The portico was subsequently restored, and the eponymous remake was erected on the site of the Perin Rows.
The underground hall of the station was designed by architect S.G. Mayofis and engineer B.D. Maksimova. The arches and pylons are decorated with ribs made of polished aluminum. The track walls were lined with glass tiles with a red backing - in 2006 it was replaced with artificial stone of the same color.
In the middle of the station is a transverse chamber. On one side there is a transitional corridor from the Gostiny Dvor station with a wide bridge and a staircase down to the middle hall platform.
In November 1967, a junction at the Gostiny Dvor station of the 3rd, Nevsko-Vasileostrovskaya, and Zelenaya line was opened at the northern end of the station. On April 30, 1968, on the embankment of the Griboedov Canal, opposite the Book House, a second exit opened, known as Nevsky Prospekt-2 and becoming common to both stations.
The transfer between Nevsky Prospekt and Gostiny Dvor stations is carried out by escalators or through a pedestrian tunnel, which is interesting because its walls are often covered with advertising of a single brand.