Знаменитое здание
Narvskaya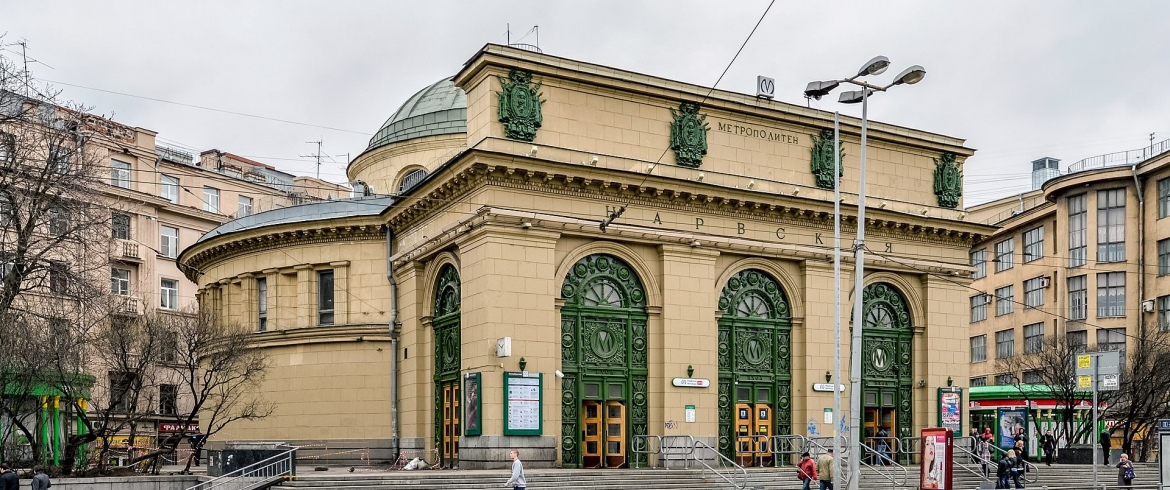 Architects
A.V. Vasiliev, D.S. Goldgor, S.B. Speransky, engineer O.V. Ivanova
Station of the 1st (Kirovsk-Vyborg, Red) line, one of the first metro stations in St. Petersburg, was opened on November 15, 1955 as part of the first stage of the Avtovo metro - Ploshchad Vosstaniya. Named after the historical district of Narva outpost.
The pavilion and the underground hall of the station were designed by architects A.V. Vasiliev, D.S. Goldgor, S.B. Speransky and engineer O.V. Ivanova, made in the neoclassical style with a domed finish.
The theme of the design of the station is the labor prowess of the Soviet people. A panel "Glory to Labor!" by the sculptors G.V. Kosova, A.G. Ovsyannikova, V.G. Stamova and A.P. Timchenko. An interesting fact: a group of workers gathered at a rally looks at the panel in the center of the high relief, but nobody is there. In the original version, I.V.Stalin should have been in the center. In the underground hall, the walls of the pylons are decorated with 48 high reliefs depicting people of different professions.
Station "Narvskaya" is located in the industrial and business district of the city. Among the attractions located nearby, one can mention the Narva Triumphal Gate with a historical museum inside and the monument of architecture of the Soviet avant-garde - Gorky Palace of Culture.