Музей
Anna Akhmatova Museum at the Fountain House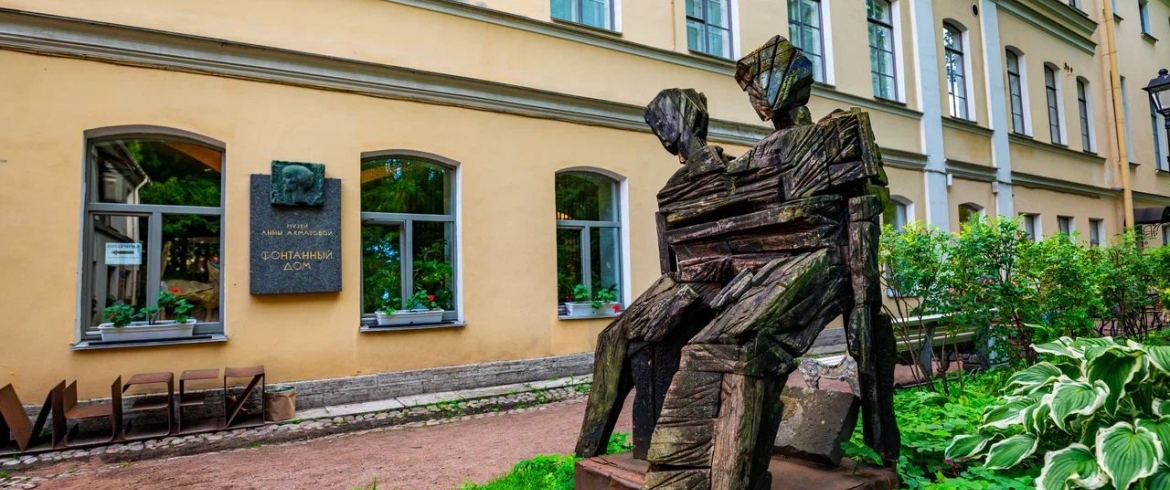 Address
Liteyny Ave, 53 (under the arch)
Monday
Closed
Tuesday, Thursday, Friday, Weekend
10:30 – 18:30
Wednesday
12:00 – 20:00
Entrance fee
adults 120 rubles., Pensioners, students 60 rubles., Students, children under 7 years old, veterans, disabled, museum workers - for free. Every third Thursday, visitors to 18 years old admission is free.
The Anna Akhmatova Museum in the Fountain House was established in 1989 to the centenary of the poet's birth. It became the first museum in Leningrad, which told about the Soviet period of Russian history, when poets, artists, people of the Silver Age era, whose life fell on the years of repression, had to preserve their peace, their identity in a totalitarian state.
The Anna Akhmatova Museum in the Fountain House is located in the historical center of St. Petersburg in the South wing of the Sheremetev Palace. The wing was built in the depths of the Sheremetevsky garden in 1845 according to the design of I. Corsini, and in 1911-1914 the architect M. Krasovsky built the third floor. There is also a memorial apartment where Anna Akhmatova lived from 1925 to 1952 with a break for evacuation from besieged Leningrad.
In 2003, the Anna Akhmatova Museum in the Fountain House divided the exposition into a memorial part that restored the architectural appearance of 1920-1940s of Punin-Akhmatova's apartment, and literary. In 2014 the literary exposition was reorganized with the help of the latest multimedia technologies.
The exposition of the museum includes the memorial apartment of Anna Akhmatova, the museum-apartment of Lev Gumilev and the American cabinet of Joseph Brodsky. (Joseph Brodsky never visited the Fountain House, they met with Anna Akhmatova in the village of Komarovo in 1961).
The museum regularly hosts exhibitions, book presentations, and meetings with authors, poetry readings, and creative evenings.
"Museum + Theater" is an unusual project, combining history, literature and theatrical art. The business card of the project is performances for the whole family based on the best works of world children's classics.
The Garden of the Fountain House is a lively space, which, on the one hand, is connected with the life of Anna Akhmatova and her poet friends, and on the other - a modern site where exhibitions are held and art objects are installed.