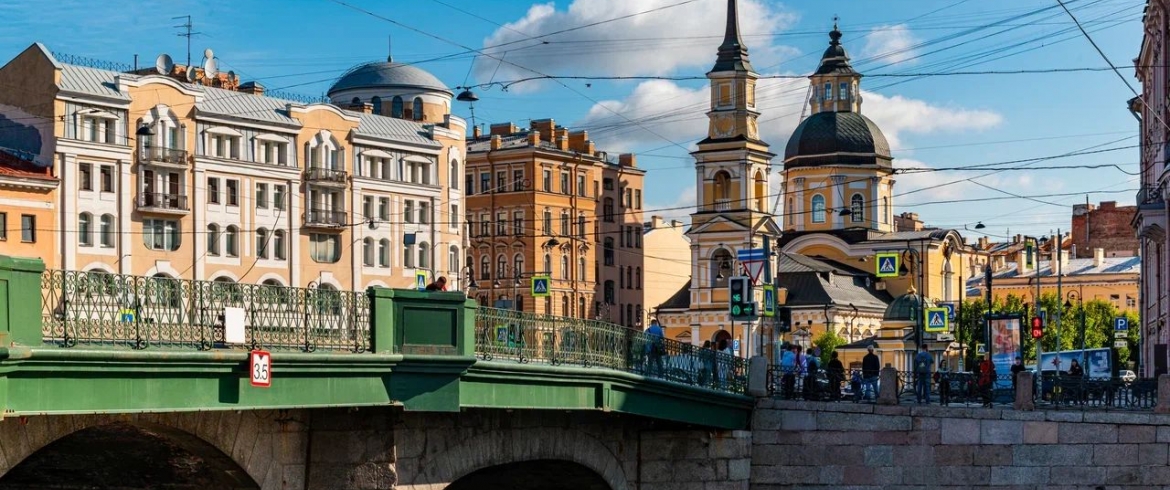 Belinsky bridge (formerly Simeonovsky Bridge: 20.08.1739-06.10.1923, Writer Belinsky: 10.06.1923-end of the 1920s) is located in line of the Belinskogo Street near the State Circus. In 1733, a wooden pile bridge designed under the stone one was built here. The bridge was called Simeonovsky by the name of the St. Simeon and St. Anna Church situated next to the bridge.
In 1736 a bridge with a mast opening appeared there. Usually the opening was closed with a shield. And when a mast vessel navigated through, the shield was moved aside.
In connection with the construction of the granite embankments walls of the Fontanka River in 1782-1784, three-span stone bridge with a central tower draw span by the type of Lomonosov Bridge (formerly Chernyshev Bridge) was built. The bridge supports were made of masonry and encased in granite. Shore spans were covered by stone arches. Granite, architecturally designed towers, which housed the lifting mechanisms, rose on the bulls of the structure. This is one of the tower bridges, which was first rebuilt to expand the roadway, at that all superstructures of the bridge were destroyed.
According to unconfirmed data, the authorship of the original project of the bridge belongs to the engineer J.R. Perrone.
In 1854-1859 the lifting deck was replaced with the stone arch faced with granite across the facade. The towers on river piers were dismantled that gave the bridge a completely different look. According to the system the bridge turned into three-span fixed-end arch. Only abutments, river supports, shore arches and granite ice guards preserved in its original appearance.
In 1890 in view of the need to expand the roadway, sidewalks of the bridge were made on the consoles. For this purpose on both sides of the structure on piers and abutments by four cast iron brackets were installed to which a metal sidewalk bar was attached. Metal rods, laid across the bridge under its roadway, keep these brackets on their places. The design of the bridge railings is simple enough – forged, metal ones.
Simeonovsky Bridge is the only bridge across the Fontanka River which has retained the original outlines of its spans.
In 1908 tram tracks were laid on the bridge.
On October 6, 1923 the bridge was named in memory of the literary critic and publicist V.G. Belinsky, who lived sometime near the bridge, on Fontanka Embankment.
In 1988 a project to restore the historic appearance of the bridge with erection of the granite towers, ancient railings and lamps was approved, but it has not been realized due to the economic difficulties.
In 1996-1999 major repair of Belinsky Bridge with replacement of steel walkways, sleeperless tram tracks laying, railing restoration and waterproofing replacement was made.
In 2003 in the frame of implementation of the "Shining City" program, Belinsky Bridge was modernized using the art high-tech lighting.