Church
Naval Cathedral of St. Nicholas the Wonderworker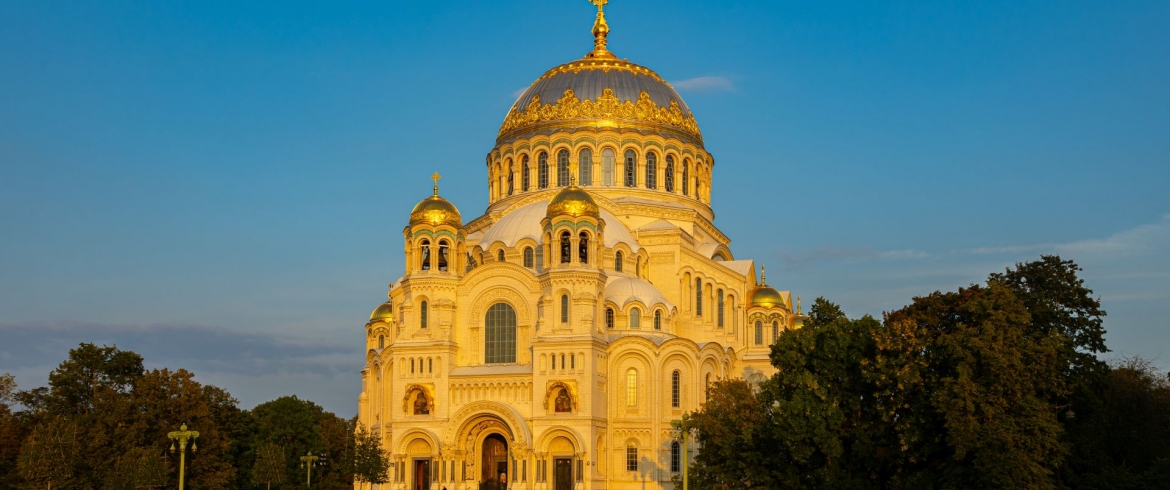 Address
Kronstadt, Yakornaya sq., 1
Years of foundation
1903–1913
The Cathedral in Kronstadt is the largest of the sea cathedrals of the Russian Empire. It was built in 1903-1913 by the project of architect V.A. Kosyakov and dedicated to "all the ranks of the Russian fleet who died in the line of duty."
The idea to build a cathedral in this place was born in the XIX century. The construction site was chosen Anchor Square, where the old anchors once lay. The temple was supposed to be high enough so that the dome, topped with a cross, could serve as a landmark from the sea.
The Naval Cathedral was built in the Neo-Byzantine style and generally resembles the Hagia Sophia in Constantinople in a somewhat reduced form. The diameter of the dome of the Naval Cathedral is 26.7 meters, the height of the cathedral with a cross is 70.5 meters, this is the tallest building in Kronstadt.
The erection of the church began in September 1902 with a prayer performed by Archpriest John of Kronstadt in the presence of Vice Admiral S.O. Makarov. On May 8, 1903 took place the solemn laying of the church with the participation of Nicholas II and members of the imperial family. On June 10, 1913 the temple was consecrated.
Divine services in the cathedral were held until 1929, then it was closed and reopened to believers only in 2005. In Soviet times there was a cinema, a club and a concert hall, and in 1974 a branch of the Central Naval Museum was opened in the cathedral building.
The parish of the temple belongs to the St. Petersburg Diocese of the Russian Orthodox Church. The stavropigial status of the cathedral indicates its direct submission to the patriarch. Since May 2013, it is considered the main temple of the Russian Navy.
The building of the cathedral is a UNESCO World Heritage Site.
По Санкт-Петербургу и туристическим пригородам — пешком, на автомобиле или минивэне
65
увлекательных индивидуальных экскурсий
Заказать