Museum
The Mikhailovsky Palace (Engineering Palace)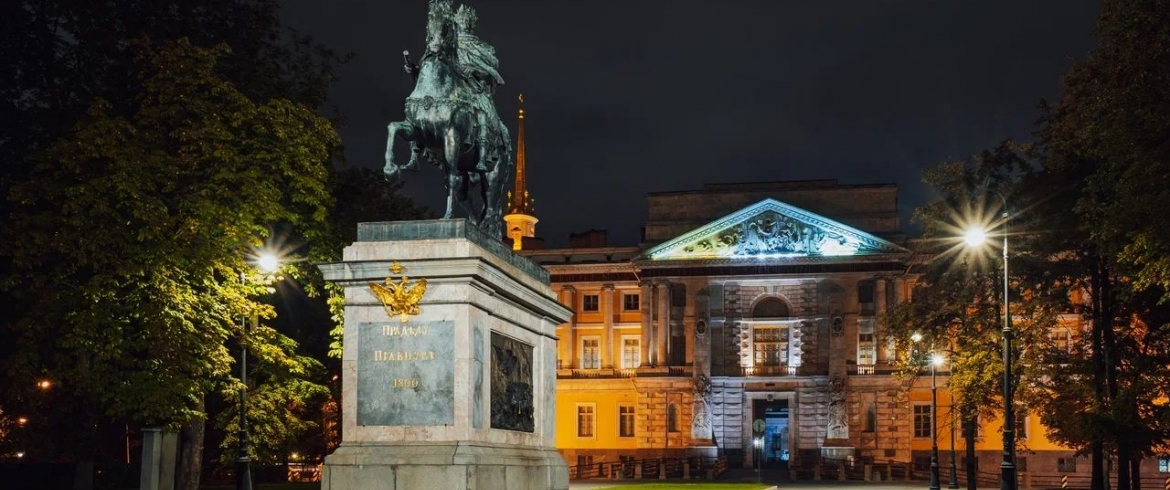 Monday, Wednesday, Friday, Weekend
10:00 – 18:00
Tuesday
Closed
Thursday
13:00 – 21:00
Entrance fee
Adults - 200 rubles., Students over 16, students and pensioners - 100 rubles., Foreign tourists - 300 rubles. (students - 150 rubles.). Children of preschool and school age, members of unions of artists, architects, designers of Russia, cadets - for free.

Mikhailovsky Palace, which is also often called the Engineers' Palace, is the imperial residence of Pavel I. It is a rather gloomy and unusual building of St. Petersburg's architecture, enveloped in mysticism and secrets from the first days of its existence. The Emperor, who was especially afraid of conspiracies, tried to find an asylum here. However, the fate overtook Paul in this building. The Mikhailovsky Palace became the place of his murder.
The castle was built on the site of the Summer Palace of Elizabeth, which was disassembled by the order of Pavel. The Emperor planned to build a "castle on the water" and personally prepared the first sketches of the building. Despite the fact that the Mikhailovsky Palace combines contradictory stylistic and architectural techniques and tendencies, it is perceived as the most expressive monument of the architecture of the reign of Pavel I.
The designing of the new castle, (architects Henri Violier, Basil Bazhenov and Vincenzo Brenna took part in designing the building in different times), began in 1784, however Pavel could accomplish his plan and start building the palace only when he ascended the throne. The Mikhailovsky Palace was founded on February 18, 1797, consecrated on November 8, 1800. Work on the interiors of the imperial residence continued after the consecration of the palace. It was named "Mikhailovsky Palace" after the temple of Michael the Archangel who was considered to be the patron of the Romanovs' house.
Pavel I lived in his new palace for a little over a month. On the night of March 12, 1801, the emperor became a victim of a conspiracy and was murdered in his own bedroom. Shortly after the tragedy took place, the treasures were removed from the Mikhailovsky Palace, and the premises were given to the needs of various departmental institutions. Since 1819 the Main Engineering School was located there, which gave the building its second name - the Engineer's Castle. In the years 1838-1843, the future great Russian writer Dostoevsky studied in these walls.
Since 1991, the Mikhailovsky Palace is under the jurisdiction of the State Russian Museum. There are permanent exhibitions of the museum, which acquaint visitors with the St. Petersburg's society of the Romanov epoch, with the objects of the Open Sculpture Fund and the "Faces of Russia" portrait gallery. The Palace hosts exhibitions, lectures, master classes, film screenings and other interesting events.
По Санкт-Петербургу и туристическим пригородам — пешком, на автомобиле или минивэне
65
увлекательных индивидуальных экскурсий
Заказать