Знаменитое здание
Mayakovskaya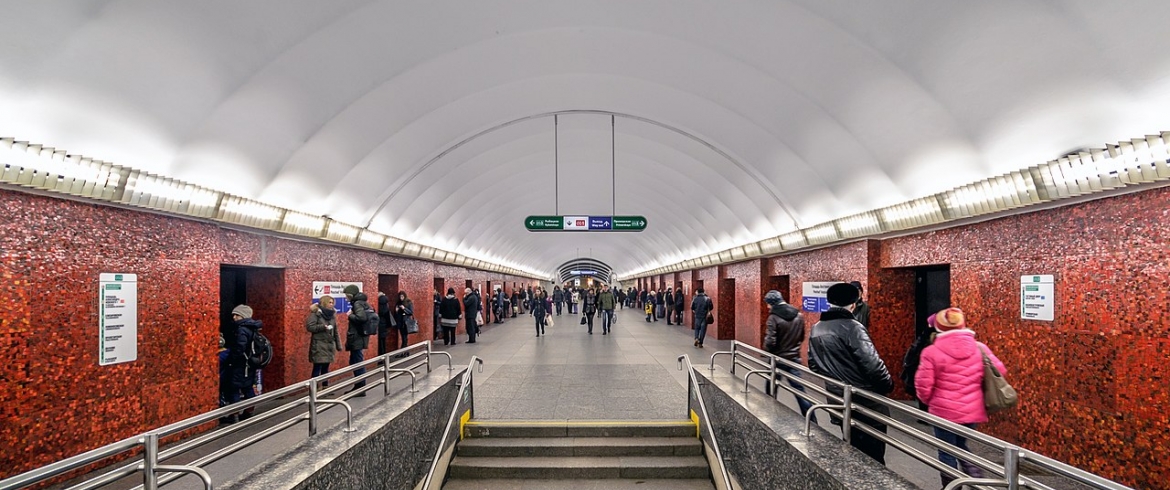 Architects
A.S. Getzkin, V.P. Shuvalova, engineer S.P. Schukin (outdoor lobby), Yu.V. Bilinsky, A.D. Bocharov, G. F. Mikhailov, engineers E.A. Erganov, L.V. Frolov, G.P. Kononchuk (underground hall).
Station of the 3rd (Nevsko-Vasileostrovskaya, Green) line was opened on November 3, 1967 as part of the Vasileostrovskaya section - Alexander Nevsky Square. The ground lobby faces Marata Street and Nevsky Prospekt across from Mayakovsky Street. In honor of the outstanding Russian and Soviet poet-futurist, the station got its name and design.
The outdoor lobby of Mayakovskaya was designed by architects A.S. Getzkina, V.P. Shuvalova and engineer S.P. Schukin. On both sides of the lobby pylon, in front of the escalator hall, is an artistic composition by sculptor M.T. Litovchenko: a copper image of the poet and quotes from his poem "Good!". The letters are 80 mm high and 20 mm wide.
Mayakovskaya is one of 10 closed-type stations in St. Petersburg, the so-called horizontal elevator. It has no side platforms, the central hall is fenced off from the paths by a wall with sliding doors, like in an elevator, through which the landing is made.
The underground hall was designed by architects Yu.V. Bilinsky, A.D. Bocharova, G. F. Mikhailova and engineers E.A. Erganova, L.V. Frolova and G.P. Kononchuk. The walls of the station are lined with smalt of intense red tone and at both ends of the hall are decorated with mosaic portraits of the poet's work by artist Yu.B. Mogilevsky.
From Mayakovskaya station you can go to the station "Ploshchad Vosstaniya" of the 1st (Kirovsk-Vyborg, "Red") line. Crossing is via a pedestrian tunnel or escalators.