Palace
The Malo-Mikhailovsky Palace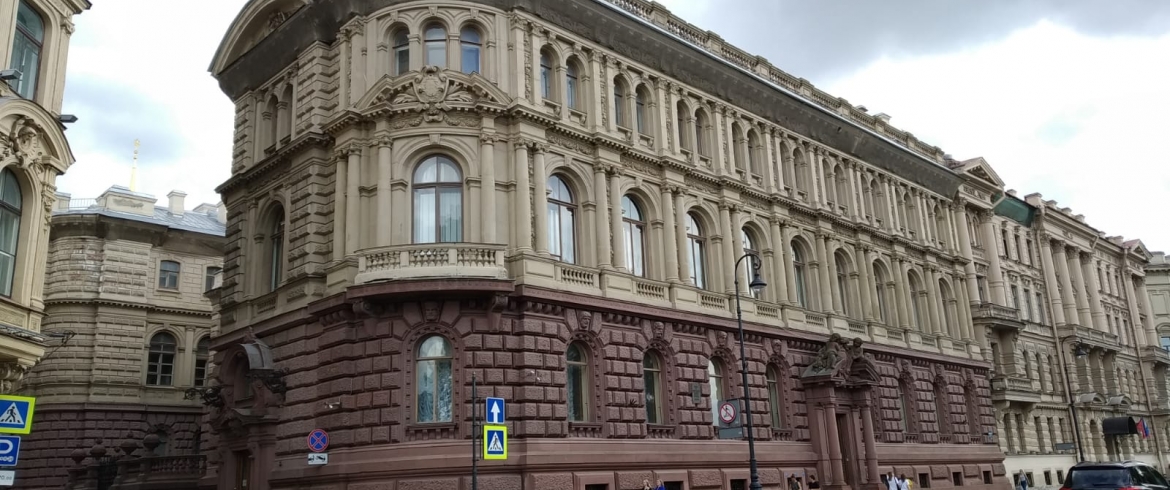 Address
Admiralteyskaya Embankment, 8
Architects
M.E. Mesmacher
The Little Mikhailovsky Palace is a historical building in the style of the Italian Renaissance, built for the Grand Duke Mikhail Mikhailovich, designed by the architect Maximilian Messmaher.
The facade of the palace was faced with blocks of gray and dark pink Wiesbaden sandstone, altogether with Finnish granite. At the level of the second floor the building is decorated with paired semi-columns and the third level with pilasters. The outer corner of the palace is surrounded with a balcony, in the upper part of the building a cornice with a balustrade is made.
Construction of the building ended in 1885, and the decoration of the premises was delayed until 1900. The palace was built using the most modern technologies, the building was equipped with running water, sewerage, telephone communication, gas and electricity. Even the area in front of the entrance was asphalted.
The Little Mikhailovsky Palace received a rich decoration: the architect Messmakher personally made sketches of lanterns, lattices, furniture, ornaments for church utensils and fabrics, for which he was subsequently awarded the Order of Anna II degree. Carved wood and tiles were widely used in the interiors of the palace. Such rooms as the Main Staircase, the Entrance Hall, the Grand and Small Reception Rooms, the Cabinet, the Library and the living quarters became particularly famous for such interior design solutions.
Currently, the palace is undergoing intensive restoration work. Perhaps a hotel will be opened here.
На комфортабельных однопалубных и двухпалубных теплоходах
30
экскурсионных круизов по Неве, рекам и каналам
Купить билет