Church
St. Michael's Lutheran Church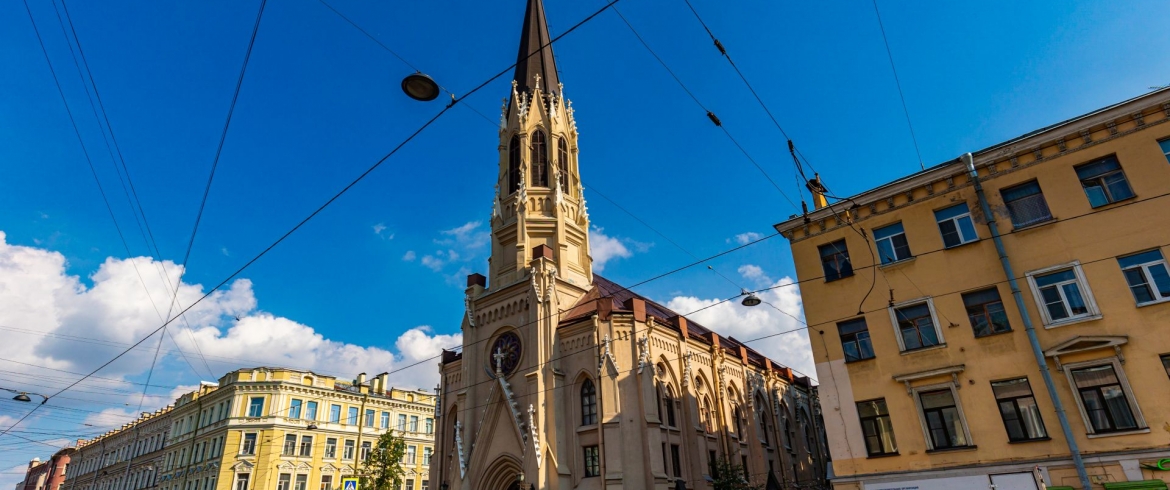 Address
Sredniy Ave V.I., 18
An active Evangelical-Lutheran church
The history of the Evangelical Lutheran parish of Saint Michael's church dates back to 1732 when the house Lutheran Church was founded on the Vasilievsky Island at the First Cadet Corps. The church was intended primarily for the cadets, officers, teachers and other employees of the corps - natives of Estland, Livonia and other Russian subjects of foreign origin.
In 1834, according to the Highest Resolution of Nicholas I, the church received the name of St. Michael the Archangel. In 1841 the building occupied by the church was decided to be demolished. The Cadet Temple was arranged in the premises of the Cadet Corps itself and parishioners from among civilians were to disperse in other parishes. Those who wished to preserve their community arranged a church in a rented room, in the house of an architect L. Ya. Tiblen on Vasilievsky Island. At the same time funds were collected for the purchase of land and the construction of their own building.
In 1874, the Church Council received permission to build a church on Vasilievsky Island at the corner of the Sredniy Avenue and the 3rd line. The stone building of the church for 720 seats was built in the Gothic style designed by engineer-colonel Karl Karlovich von Boulmering. In 1876 the church was consecrated.
In 1886 there was decorated with a new, more artistic façade according to the project of the architecture of R.B. Bernhardt. The church was magnificently decorated inside, had remarkable acoustics and one of the best organs in the city.
In 1935 the church was closed. There was a sports base in the church building and then a warehouse of a tobacco factory. After the war there was an experimental plant shop. The interior of the church was completely rebuilt and distorted.
Since 1992 the church has been returned to the Russian Lutheran community, divine services have been resumed. In 2004-2010 the restoration was carried out with the reconstruction of the interior of the church and renovation of the roof and facade.
Индивидуальные экскурсии по городу и пригородам на автомобиле и минивэне
Петербург для тех, кто ценит комфорт и внимание
Заказать