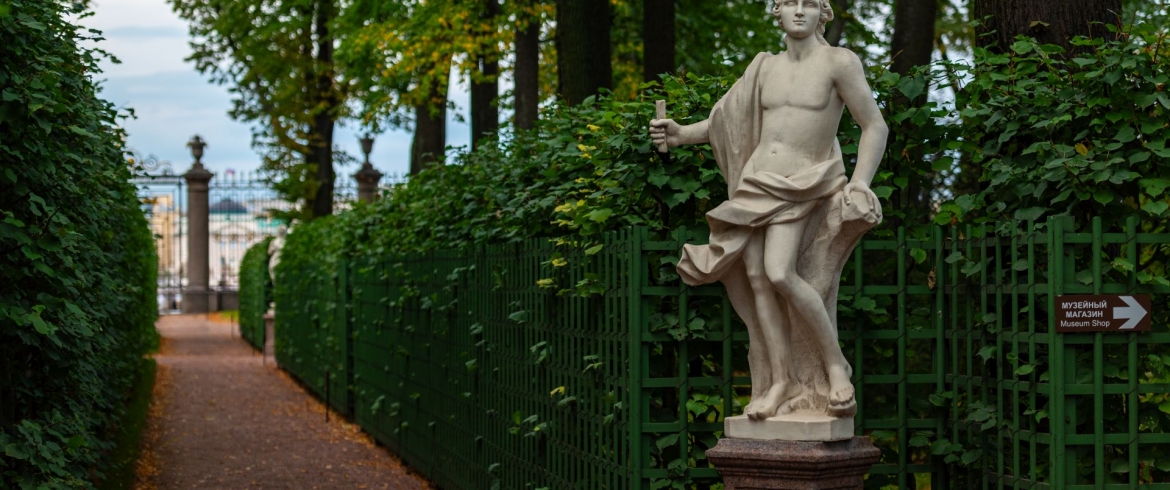 Timetable
from May 1 to September 30 - from 10:00 to 22:00; from October 1 to March 31 - from 10:00 to 20:00;from April 1 to April 30 - closed.
Day off - Tuesday.
Lattice of the Summer Garden, architects : Yuri Felten and Peter Egorov.
The history of the Summer Garden begins in 1704. In that time Peter I ordered the splendid park in the area of the empty house of the Swede Konau to be opened. The sovereign personally made a sketch and ordered to decorate the garden with annual plants each year. After a couple of years, the first fountain appeared, and in 1710 the Summer Palace of Peter I was built.
Peter wanted to have in Summer Garden as many sculptures as possible. In 1714 one of the open galleries was decorated with a statue of Venus, donated by the Pope of Rome. Sculptures were collected from all over the world and by the end of the reign of Queen Elizabeth the two hundredth statue was installed in the garden.
In 1771, from the northern part of the garden, an amazing fence was established, which managed to become one of the main symbols of St. Petersburg. The lattice of the Summer Garden, created by the project of architect Yuri Felten and Peter Egorov became famous throughout the world.
Over the years of its existence, the Summer Garden has repeatedly changed its appearance, in every era it looked in its own way. The last reconstruction of the Summer Garden was completed in 2012. Great fountains have been restored and historical buildings have been reconstructed.
The Summer Garden is run by the State Russian Museum.
По Санкт-Петербургу и туристическим пригородам — пешком, на автомобиле или минивэне
65
увлекательных индивидуальных экскурсий
Заказать