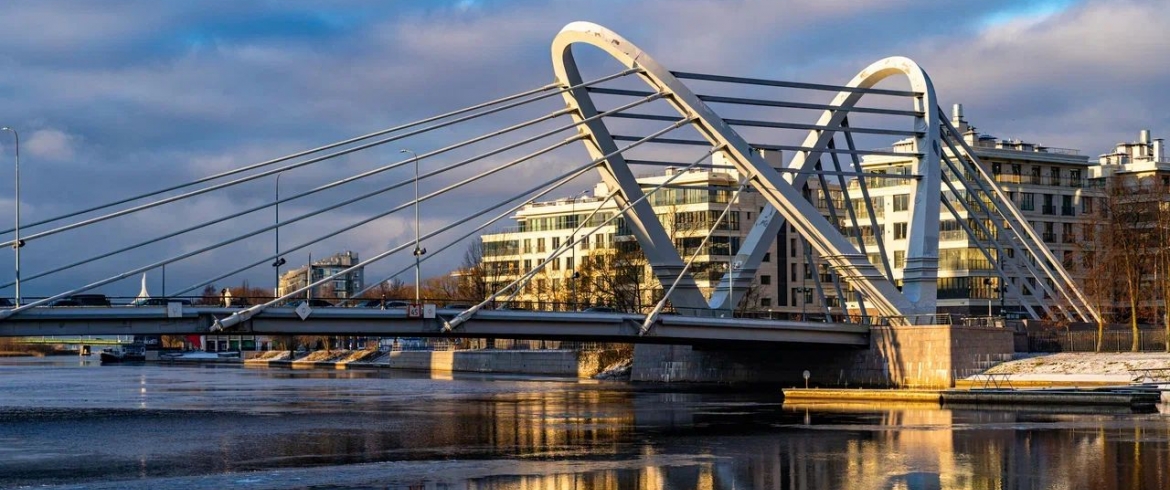 Opened in
1949 (wooden), 2009 (cable-stayed)
Engineer
A.A. Stanevich, T.Yu. Gurevich, Yu.Yu. Krylov, L.A. Kudryavtseva, M.V. Duba, A.E. Goryunov, I.E. Serebrennikov
Lazarevsky Bridge is a bridge over the Malaya Nevka River in the alignment of Pionerskaya Street. It connects Petrogradsky Island and Krestovsky Island.
The need for construction of a bridge at this site was connected with construction of the stadium named after Sergey Kirov located in Primorsky Victory Park at the western end of Krestovsky Island.
The opening of the stadium took place on July 30, 1950, and in 1947-1949 under the project of engineer V.V. Blazhevich of Lengiproinzhproject 11-span wooden simple bridge with a central draw span was built. Originally the bridge was named Koltovsky by the name of the adjacent streets and embankments, and in 1953 it was renamed in honour of the eminent Russian scientist and explorer of Antarctica Admiral M.P. Lazarev.
The fixed spans were covered by metal I-beams of constant height with transverse crosslinks. Single leaf draw span had trunnion bascule system with a fixed axis of rotation, with a fixed counterweight. There was an electro-mechanical drive.
The bridge abutments were on timber piles with retaining walls; and then they were replaced by reinforced concrete ones with metal tubular piles.
Intermediate supports of fixed superstructures were wooden tower ones on wooden piles. The draw span supports were metal frame ones on wooden piles. The supports were protected from ice and berthing impact by special pile groups.
The bridge had a wooden covering on the cobbled crossbars, and the sidewalk was separated from the tram lane by metal railing.
Lighting on the bridge was carried out using standard street lamps hanged by one to metal tubular columns.
In 1976 the major repair took place during which the wooden retaining walls were replaced with reinforced concrete slabs and metal piles.
In 1998 the major repair of the superstructure took place during which cross beams, wooden railings, drain, sidewalks covering and intertrack space were replaced. The tram lanes were in operation up to 2002.
In 2008-2009 the bridge was fully reconstructed. And after that the bridge became a single-span cable-stayed one and it is designed for cars (4 lanes) and pedestrian traffic.