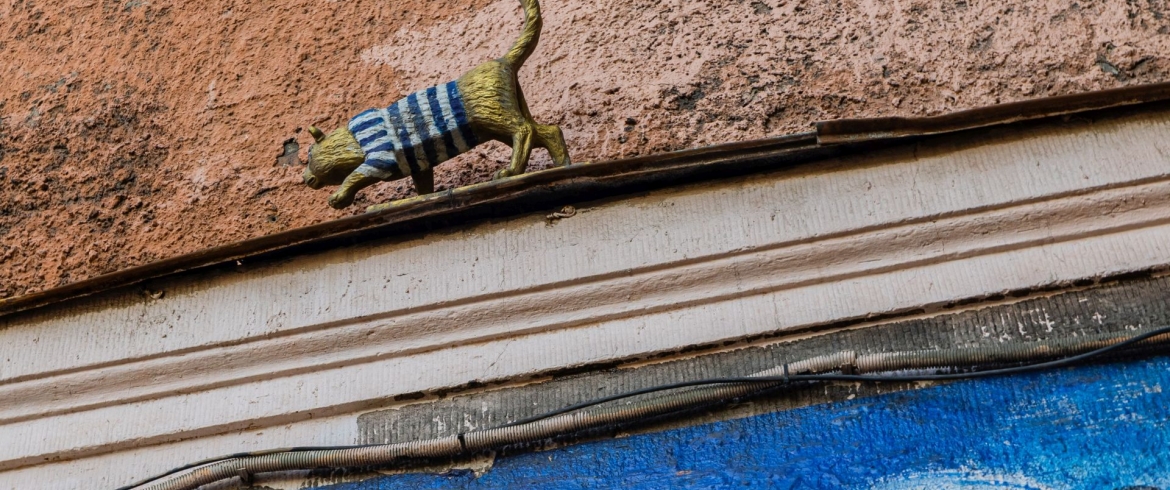 Architects
V.A. Petrovichev
The Cat of Tishin Matroskin walks by itself on the eaves of the house 36 along Marat Street, where the gallery "Mitki-Art-Center" is located. This talisman of all cats of St. Petersburg was created by artist Vladimir Petrovich, the author of the famous cat Elisha and Vasilisa on Malaya Sadovaya Street.
A metal sculpture in a vest was born in 1999, and in 2005 it was presented to a group of artists "Mitka". The artists installed a figurine on the eaves of the house along Pravda Street, where their workshop was located. The placement of the cat in its place marked a new city holiday - the Day of St. Petersburg cats, which has been celebrated every year since then on June 8th.
The cat received its name by the name of the Moscow street Matrosskaya Silence and by a vest - the "branded" clothing of Mitki. When Mitki moved to Marat Street, the cat also moved there.
A new stage in the life of Tishin Matroskina (or simply Tishka) began in 2019 with trouble: in May, unknown vandals threw it from the eaves. By luck, the sculpture was preserved - it caught its tail in the wires. On June 7, 2019, the cat was returned to the facade of the house on 36 Marat Street, and now it will be protected by the sailor Mityok - a reproduction of the painting by Dmitry Shagin. The picture was painted on the wall by artist Oleg Lukyanov using the urbanfresco method.
Индивидуальные экскурсии по городу и пригородам на автомобиле и минивэне
Петербург для тех, кто ценит комфорт и внимание
Заказать