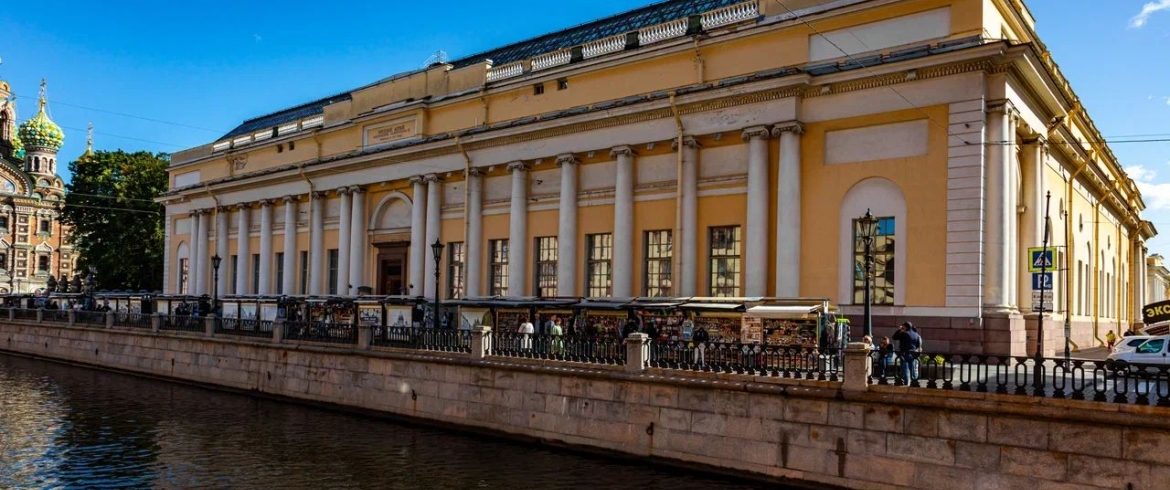 Address
Embankment of the Griboyedov Canal, 2
Monday
10:00 – 20:00
Tuesday
Closed
Wednesday, Friday, Weekend
10:00 – 18:00
Thursday
13:00 – 21:00
Entrance fee
Adults - 350 rubles., Students over 16, students and pensioners - 170 rubles., Foreign tourists - 450 rubles. (students - 200 rubles.). Children of preschool and school age, members of unions of artists, architects, designers of Russia, cadets - for free.
The Benois Wings Building was built on the initiative of the Imperial Academy of Arts. It was originally purposed for various exhibitions. The project was executed by the architects L.N. Benois and S.O. Ovsyannikov in 1910-1912.
On May 27, 1910 by the decree of Emperor Nicholas II for the erection of the exhibition building a territory on the corner of the Engineering Street and the Catherine Canal (now the Griboedov Canal) was allocated. Buildings of the former State Printing House, which were situated here, were subject to demolition. According to the requirements of the commission, which worked out the rules and the program of the competition on the best project of the building, a new two-storied building of a "monumental character" in the classical style with a main facade facing the canal had to appear. None of the projects of the building met the requirements of the contest program to the fullest extent, so the design was entrusted to the architect of the Supreme Court, Professor L.N. Benoit.
The "Palace of Arts", as from that time began to be called a new exhibition building, was held on June 27, 1914. However, the construction of the building was completed after the revolution of 1917. New authority transferred the Palace of Arts to the direct supervision of the Russian Museum.
In 1953 the building of Benoit was connected by a glass gallery with the main building of the museum (initially communications between the buildings were not envisaged), thus making it possible to give the exposition logic and completeness.
The building of Benoit Wings has been housing temporary exhibitions, permanent displays of art of the late XIX - early XX centuries and Soviet art. Concerts, musical and literary evenings are also held here.