Palace
Konstantinovsky Palace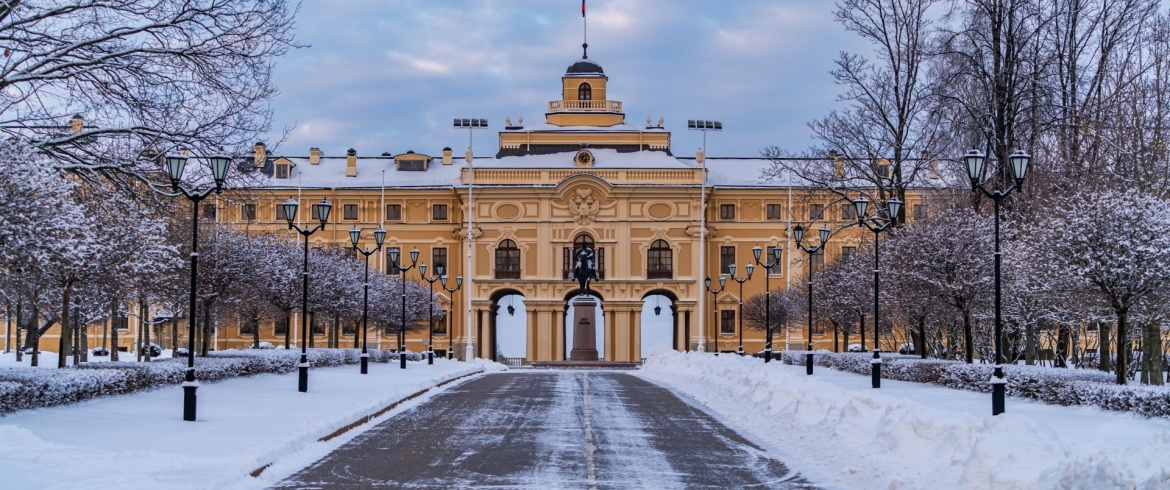 Address
Strelna, Konstantinovsky park, 1
Monday, Tuesday, Thursday, Friday, Weekend
10:00 – 18:00
Wednesday
Closed
Timetable
On days of government events, the palace is closed to the public.
Years of foundation
1720-1730, 1847-1851, 2003
Architects
N. Michetti, F.-B. Rastrelli, A.I. Shtakenshneider and others.
Ticket price
Adults: 350-400 rubles., Preferential: 250 rubles.
The state complex "Palace of Congresses" was created on the basis of an architectural monument of the 18th century - the Strelninsky Palace and Park Ensemble. It is located in the historic park area on the picturesque southern coast of the Gulf of Finland.
In 1709, Peter I decided to build the grand imperial residence here, capable of overshadowing the famous Versailles in scale and beauty. On the project of the ensemble worked well-known European architects - father and son Rastrelli, J.-B. Leblon, N. Michetti, and later - L. Ruska, A.N. Voronikhin, A.I. Stackenschneider. The Bolshoy Kamenny Strelinsky Palace was erected and parks were set up. However, the design of Peter the Great was not fully realized.
At the end of the XVIII century Strelna became the residence of the Grand Dukes of the House of Romanov. The owners of the estate were Tsarevich Konstantin Pavlovich, then - General-Admiral Konstantin Nikolaevich and his descendants.
The last owner of the palace, Grand Duke Dmitry Konstantinovich, was shot during the revolution, and the priceless collection of art objects created by many generations of owners, was lost. Memories of the former splendor of the residence remained in the "national" name of the palace - Konstantinovsky.
After the October Revolution, the First Strelninsky school-colony was located in the palace, in 1937 the sanatorium opened here, then there were the courses of the Navy, and after the war, until 1990 - the Arctic School.
During World War II, the palace and park ensemble in Strelna were almost completely destroyed, it was restored in 1950.
In 2000 the Konstantinovsky Palace with the surrounding lands of more than 140 hectares was transferred to the balance of the Office of the Presidential Affairs and construction and restoration work began. The facades and interiors of the palace, the park, the canal system were restored according to old drawings. Hydraulics deepened the channel of reservoirs for the reception of yachts and river vessels. Bridges and fountains that previously existed only in projects, including three drawbridges, were built.
The "Congress Palace" opened its doors to the 300th anniversary of St. Petersburg. Its grand opening took place on May 30-31, 2003.
Today, international talks are held at the highest level in the Konstantinovsky Palace - summits of the largest countries of the world, meetings of heads of state and government. And there are constantly guided tours, exhibitions, concerts and festivals for children and adults. Tickets for the tour can be purchased online at the Konstantinovsky Palace website.