Church
The Prince St. Vladimir's Cathedral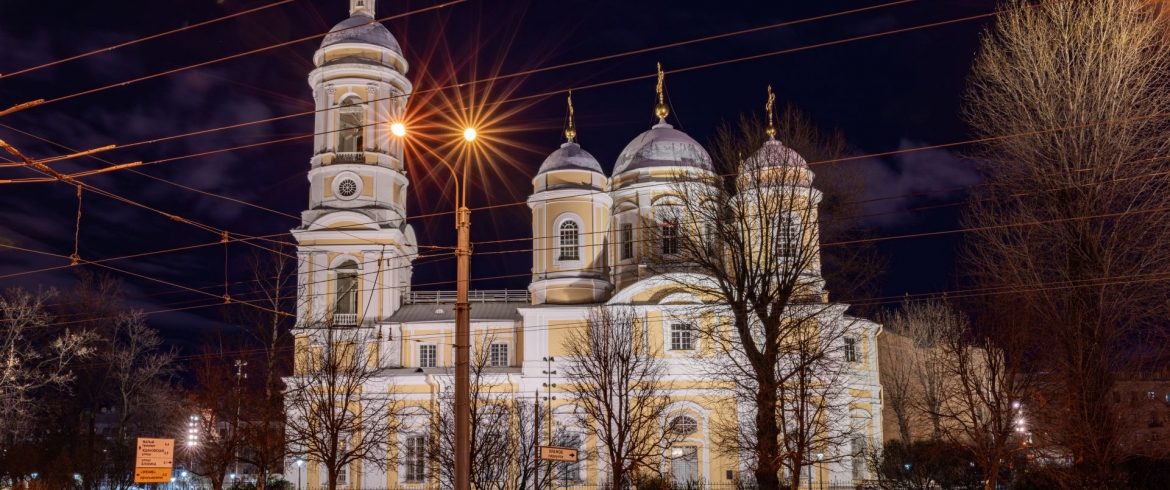 Years of foundation
1766-1789
Architect
Antonio Rinaldi
Style
transitional from baroque to classicism
Active Orthodox church
The Prince St. Vladimir Cathedral located in the Petrogradskaya district is an outstanding monument of Russian church architecture. It has a special place among the Orthodox shrines of St. Petersburg.
The predecessor of the cathedral was a wooden Uspenskaya church the construction of which began during the times of Peter I. The church received a status of a cathedral shortly. By its size and number of thrones, the cathedral even surpassed earlier built cathedrals of St. Petersburg, namely, Petropavlovsk cathedral, St. Isaac's cathedral and Troitse-Petrovsky cathedral. The fourth St. Petersburg cathedral, reminiscent of its dedication to the Uspensky Cathedral of the Moscow Kremlin, emphasized the capital status of the "young city" being a Moscow's successor.
By decree in 1740, a one-domed stone church was founded next to the wooden building of the Uspensky Cathedral. It was modelled after the cathedral of the Peter and Paul Fortress. However, in connection with the palace coup, the construction works on the church were stopped and resumed only in 1765, by the design of A. Rinaldi. In 1772, the wooden Uspensky cathedral was destroyed by fire. Church services were conducted in the building of the Prince St. Vladimir Cathedral which was not finished yet. The new church was named in honor of the Grand Prince of Kiev Vladimir Svyatoslavich, who was baptized and married to Princess Anna, a sister of the Byzantine emperors.
The magnificent five-domed Prince St. Vladimir Cathedral has occupied a central place in the panorama of the city which opens from the grand halls of the Neva's suite of the Winter Palace. To this day, the church still plays an important role in urban planning. Its' high pillar-shaped bell-tower serves as a landmark for ships sailing from the bay to Malaya Neva.
Индивидуальные экскурсии по городу и пригородам на автомобиле и минивэне
Петербург для тех, кто ценит комфорт и внимание
Заказать