Church
Kazan Church of the Novodevichy Convent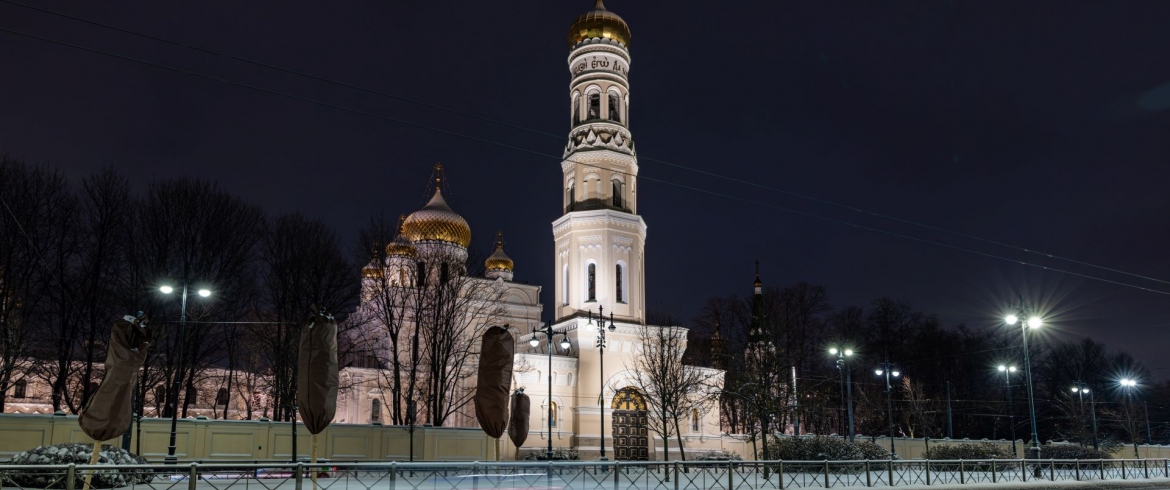 Address
Moskovsky prospect, 100
Years of foundation
1907–1914
Active Orthodox church
The five-field Kazan temple was built according to the project of architect V.A. Kosyakov. It is located on the same axis with the Resurrection Cathedral and the main entrance to the Novodevichy Cemetery. Outwardly, the temple resembles the Cathedral of St. Sophia in Constantinople.
The temple is lined with a light, almost white brick, specially brought from Germany. Brick masonry is an important decorative element in the overall design of the temple. The drums of the central and small domes are decorated with ornaments and majolica. Three portraits are decorated with an elegant sculpture, "fashioned" out of concrete, imitating stone carvings using mosaic inserts.
The external appearance of the church is in complete unity with the nature of the decision of its internal space. The church is decorated with three wooden carved iconostases, covered with gilding. The icons in it were made by the teachers of the St. Petersburg Theological Academy V.T. Zhdanova and I.N. Kusov. The wall painting of the Kazan temple was restored and created by artists of the St. Petersburg Theological Academy and the icon painting school of the Moscow diocese of Dubna.
In the Soviet years, the Kazan Church was used to house a mechanical workshop. Huge damage to the building was caused by constant vibration of working machines. The revival of the church began in 1992, when the building was transferred to the diocese. Two years later the church was handed over to the monastic community, and in 1996, the Kazan Icon of the Mother of God was added to the temple inauguration.
Индивидуальные экскурсии по городу и пригородам на автомобиле и минивэне
Петербург для тех, кто ценит комфорт и внимание
Заказать