Church
Catholic parish of St. John the Baptist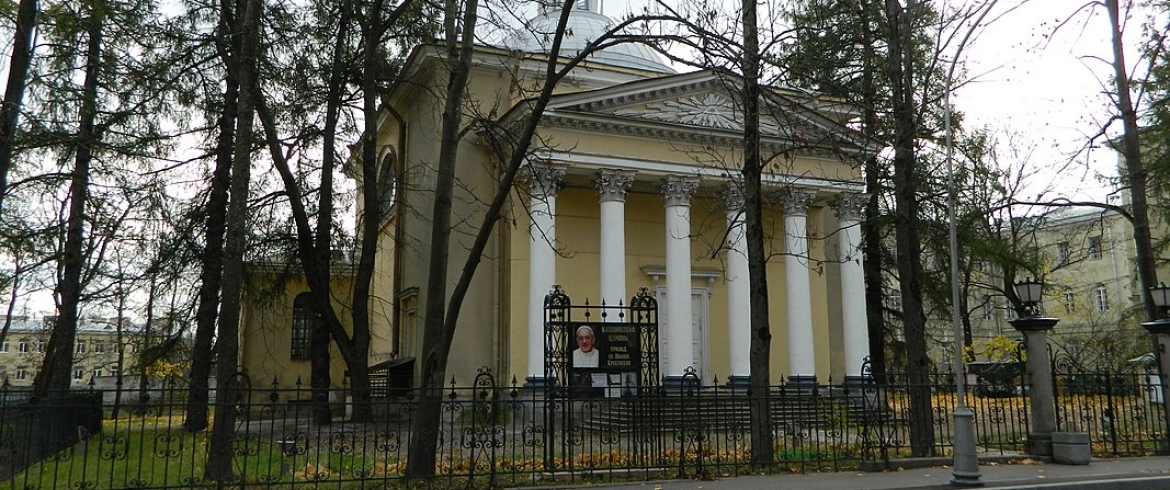 Address
Pushkin, Dvortzovaya st., 15
Architect
Domenico Adamini, V. P. Stasov
The Catholic parish in Tsarskoye Selo appeared at the beginning of the XIX century. The first church, built in 1811, was wooden; it was located in one of the houses on Gospitalnaya Street, which belonged to the master of ceremonies, Commander Masonon.
After 13 years it became necessary to create a large stone building worthy of Tsarskoe Selo. A new church for Catholics was built on Kuzminskaya Street (now Dvortzovaya). The proximity of the Catholic church to the imperial residence showed its high status.
The Catholic church was built under the chairmanship of the Adjutant General Count Ozharovsky, designed by architects Domenico Adamini and Vasily Petrovich Stasov. Funds for the construction of the temple, which was carried out from 1824 to 1826, were granted by Emperor Alexander I and the august family.
The Roman Catholic Church of St. John is built in the traditions of European architecture and is an example of the Empire style. The portico with six Corinthian columns, the gable with the All-Seeing Eye and a large dome topped with a cross give the monumentality and expressiveness of the building.
In 1908, on the instructions of the abbot, the church was almost doubled. The project involved the architect Silvio Danini, together with the engineer Pentkovsky.
There are three thrones in the church. The main altar was consecrated in honor of St. John the Baptist, the side chapels in remembrance of the supplication of the cup and the Mother of God. The altars were made of artificial marble. Above the main altar was an engraved image of the Beheading of John the Baptist, presented to the temple of the morganatic wife of Grand Duke Konstantin Pavlovich by Princess Lovich, and a crucifix of coral was located nearby.
In 1831, the wife of Grand Duke Constantine Zhanetta Grudzinskaya, who received the title of Princess Lovich, was buried in the church crypt. The graves of the Catholic Metropolitan and Archbishop Ignatius-Ludwig Korvin-Pavlovsky, Prince Emmanuel Nikolaevich Meschersky, the Count and Countess Ozharovsky, the Count Julius Lita, the Count de Laval, and others (15 graves in total) were located here. After the revolution, the Roman Catholic Church operated until 1938, then the church was closed, and the remains of Princess Lovich were sent to Poland.
From 1983 to 2005, the church building was used as a concert hall of the State Museum-Reserve Tsarskoye Selo. In 2005, the temple was finally transferred to the Roman Catholic Church with the return of its former name - the Roman Catholic Church of St. John.
Индивидуальные экскурсии по городу и пригородам на автомобиле и минивэне
Петербург для тех, кто ценит комфорт и внимание
Заказать