Church
Church of St. Stanislav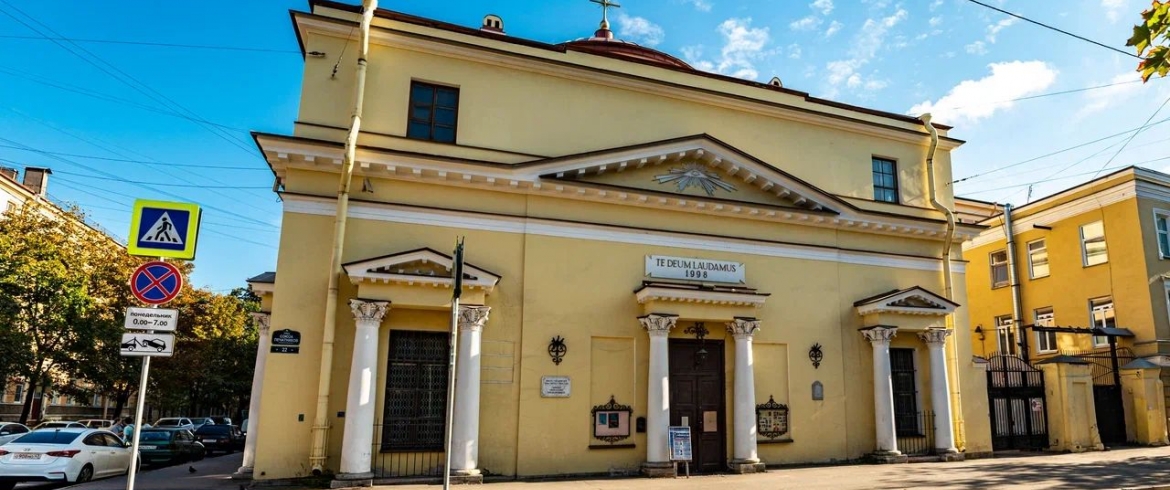 Address
Souz Pechatnikov st., 22
Cathedral of St. Stanislav was built in 1825 according to the design of the Italian architect David Visconti in the style of classicism. The square-shaped building is crowned with a low dome, two symmetrical facades, decorated with columns and small porticos, are facing the streets of the Union of Copywriters and the Workshop. The dome is decorated with paintings on the inside.
Earlier, this place was the home of the first Catholic Metropolitan of the Russian Empire, Stanislav Bogush-Sestrentsevich, who donated this piece of land and money for the construction of the church. He also consecrated the church in the name of St. Stanislav, and a year later died and was buried here.
From 1887 to 1921, the famous philanthropist, a prominent figure of the Catholic Church in Russia, Bishop Anthony Maletsky served in the church, which is reminded by a memorial plaque inside the building.
Under the Soviet regime, repression began to descend on the parish, many priests and active parishioners were arrested, some were shot. In 1934, the temple was closed, the building housed a warehouse, a workshop for the production of gas masks, and since 1961 - a workshop of the Rot Front factory. The building was badly damaged. It was repaired in the 1980s, and on August 9, 1996, it was returned to the Catholic Church.
After the restoration of the temple was completed in 1998, it was re-consecrated.
In 2005, a memorial plaque was unveiled in the temple in memory of Pope John Paul II, and on November 7, 2018, a memorial plaque commemorating 425 Catholic priests of various nationalities and rituals who died in prisons, camps, and exile during the communist repression.
Today it is a functioning Catholic church, a spiritual library works here, and concerts of piano and organ music are held.
Индивидуальные экскурсии по городу и пригородам на автомобиле и минивэне
Петербург для тех, кто ценит комфорт и внимание
Заказать