Church
Temple-chapel on Sennaya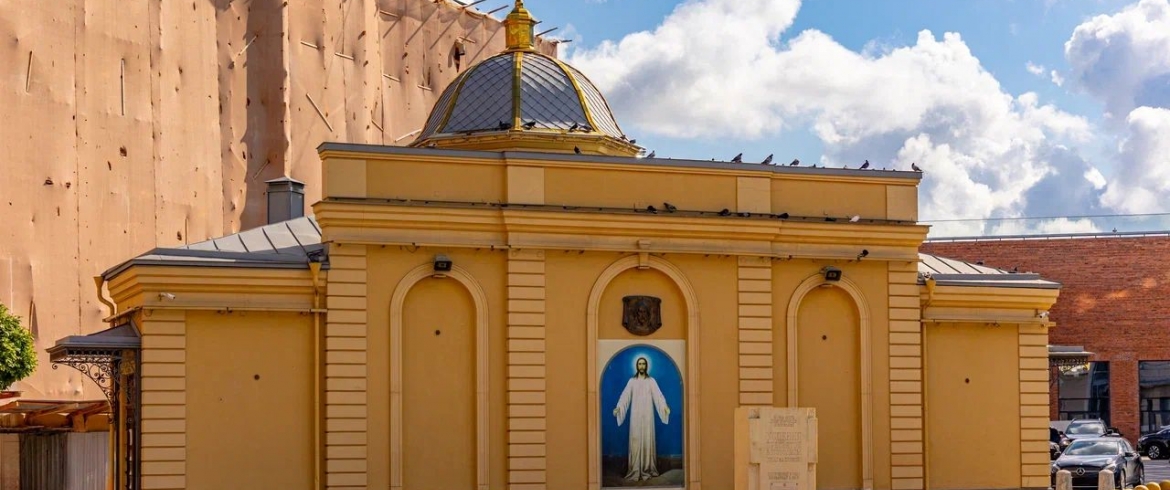 Address
Sennaya sq., next to the metro
Years of foundation
1753 (Spas-on-Sennaya), 2003 (memorial chapel)
Architect
Andrei Kvasov (Spas-on-Sennaya)
The chapel on Sennaya Square was built in 2003 and consecrated in 2005 in memory of the lost Church of the Assumption of the Blessed Virgin Mary and consecrated in honor of the patron saint of commerce - the Holy Great Martyr John the New (Sochavsky). This martyr suffered for the faith in the 14th century in the city of Ackermann.
The church in the name of the Assumption of the Blessed Virgin Mary (Spas-on-Sennaya) was founded on July 20, 1753 by Archbishop Sylvester. The temple was built at the expense of the wealthy tax collector Savva Yakovlev (Sobakin) designed by architect Andrey Kvasov. According to some versions, the famous architect Bartolomeo Rastrelli also participated in its creation. In 1761–1765 the temple was consecrated.
The architecture of the temple was designed in a mixed style. The magnificent building was crowned with five domes on multifaceted drums. The three-tiered bell tower ended with an elongated dome, with a high refectory adjacent to it. The high gilded iconostasis of the church was considered one of the best in St. Petersburg.
Outstanding value of the temple were the bells. Among the fifteen bells of the temple were the best examples of works of domestic art casting. The largest of them was cast in Moscow at the Jason Strugovshchikov plant and weighed 8,900 kg. Noteworthy were also the paintings of the Greek letter and the silver throne.
The church was rebuilt several times. In Soviet times, it suffered the fate of many churches: in the 1920s, all valuables from the church were removed, in April 1938, the temple was closed, and on February 1, 1961 it was blown up for the construction of the lobby of the Ploshchad Mira metro station (now the Metro station "Sennaya square").
In the 1970s, architect-restorer D.A. Butyrin developed a project to restore the temple. Activities to rebuild the church intensified in the 1990s, and in the early 2000s, the city gave permission. However, the project has not yet been implemented.
In 2003, a chapel was erected in memory of the lost Church of the Savior on Sennaya, in 2016-2017 it was reconstructed and expanded. It is active, above the door of the chapel the image of the Iberian Mother of God is placed.
Индивидуальные экскурсии по городу и пригородам на автомобиле и минивэне
Петербург для тех, кто ценит комфорт и внимание
Заказать