Знаменитое здание
Gostinny Dvor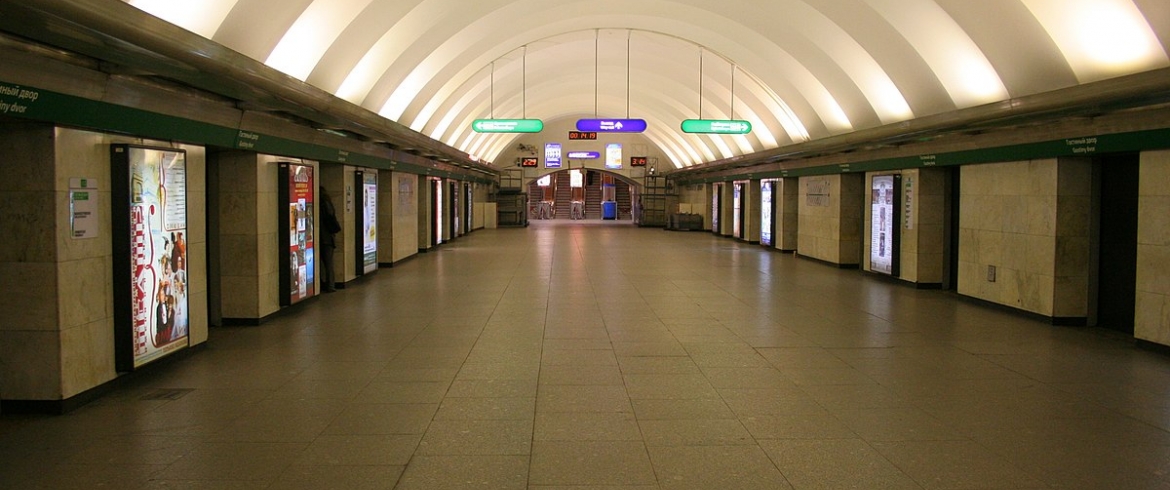 Years of foundation
1967,1968
Station of the 3rd (Nevsko-Vasileostrovskaya, Zelenaya) line was opened on November 3, 1967 as part of the Vasileostrovskaya section - Alexander Nevsky Square. The ground lobby of the station is built into the building of the department store of the same name - hence the name.
The lobby, facing the Gostiny Dvor at the junction of the Nevskaya and Sadovaya lines, was designed by architects A.K. Andreeva, Y.E. Moskalenko and engineer S.P. Schukin. It is faced with light marble and has a pleated ceiling.
Above the escalators is a stained glass window by the artist A.L. Korolev on the shooting of the July demonstration, which occurred in 1917 here, at the intersection of Sadovaya Street and Nevsky Prospekt. Among St. Petersburg residents, the platform in front of the stained-glass window is popular as a place for meetings, and for some reason the popular name "On the Bird" has been fixed to it.
On April 30, 1968, the second exit was opened from the Gostiny Dvor station to the embankment of the Griboedov Canal, Nevsky Prospekt-2, which became common for both stations. The lobby was built into the Engelhardt House, which also houses the Small Hall of the Philharmonic. During construction, Engelhardt's House was partially demolished and then restored. By the way, this meeting place also has a popular name - "Microclimate" (aka "Climate").
Gostiny Dvor is one of 10 closed-type stations in St. Petersburg, the so-called "horizontal elevator". It has no side platforms, the central hall is fenced off from the paths by a wall with sliding doors, like in an elevator, through which the landing is made. The underground hall was designed by architects S.G. Mayofisa, E.S. Belyat, V.E. Shevelenko and engineer Yu.A. Skorobennikova. The walls of the front hall are faced with white marble, the floor is made of dark gray granite.
The transfer between the Gostiny Dvor and Nevsky Prospekt stations (Moskovsko-Petrogradskaya, Sinaya Line) is carried out by escalators or through a pedestrian tunnel.
From the exit from the metro to the other side of Nevsky there is a long underground passage with a large number of souvenir stalls.