Знаменитое здание
Gorkovskaya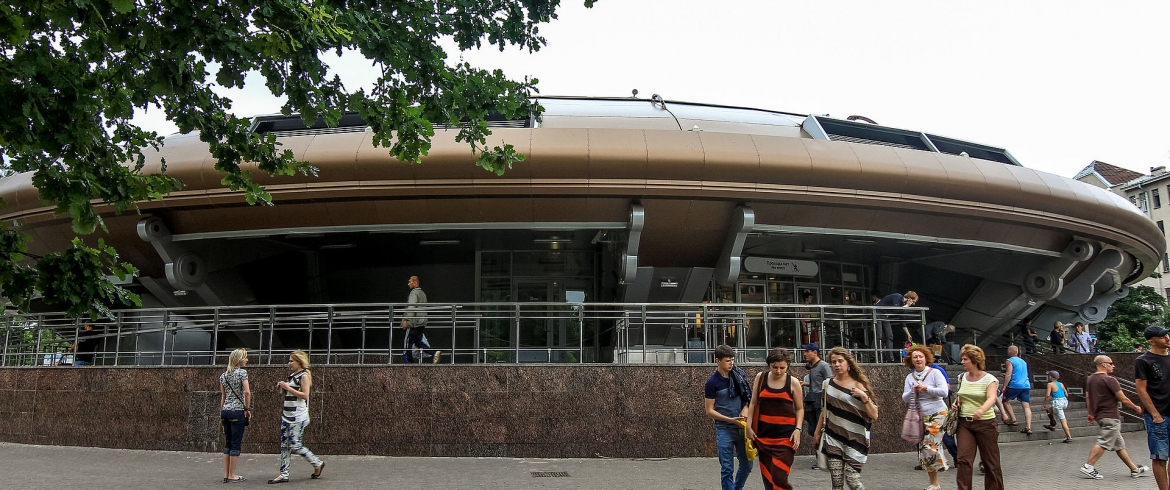 Address
Aleksandrovsky park
Years of foundation
1963, 2009 (reconstruction)
Architects
Architectural workshop "XUAR. T-project "(pavilion), S.I. Evdokimov, N.I. Bashnin, A.P. Isoitko, S.L. Mikhailov and E.I. Travnikov (underground hall)
Station of the 2nd (Moscow-Petrograd, Blue) line was opened July 1, 1963 as part of the Technological Institute - Petrogradskaya section. It was named after the nearby avenue, which at that time was named after the writer Maxim Gorky (in 1991, the avenue was returned to the historical name Kronverksky, and the station remained Gorkovskaya).
The pavilion is located in the Alexander Park near the crown of the Peter and Paul Fortress. It was built according to the standard design of A.S. Getzkina and V.P. Shuvalova and originally was a laconic squat round building in plan, covered with a dome. In 2009, it was completely rebuilt. Today it is a futuristic round structure resembling an alien spaceship. The project was developed by the architects of the workshop "XUAR. T-project. "
The underground hall of Gorkovskaya has not changed after the reconstruction. Station decoration architects S.I. Evdokimov, N.I. Bashnin, A.P. Isoitko, S.L. Mikhailov and E.I. Travnikov was dedicated to the writer A.M. Gorky. The end wall is decorated with a portrait of a writer by sculptors M.R. Gabe, A.M. Torich and P.A. Yakimovich. Decorative bars with patterns on the works of the writer are installed on the track walls, and a petrel of dark metal stripes is depicted on the doors of cable cabinets.
It is interesting that the tunnel connecting Gorkovskaya with the Nevsky Prospekt station passes under Neva in one of its widest places and goes downhill near the left bank, so that the first train of the train is six meters lower than the last.