Bridge
The Hermitage Bridge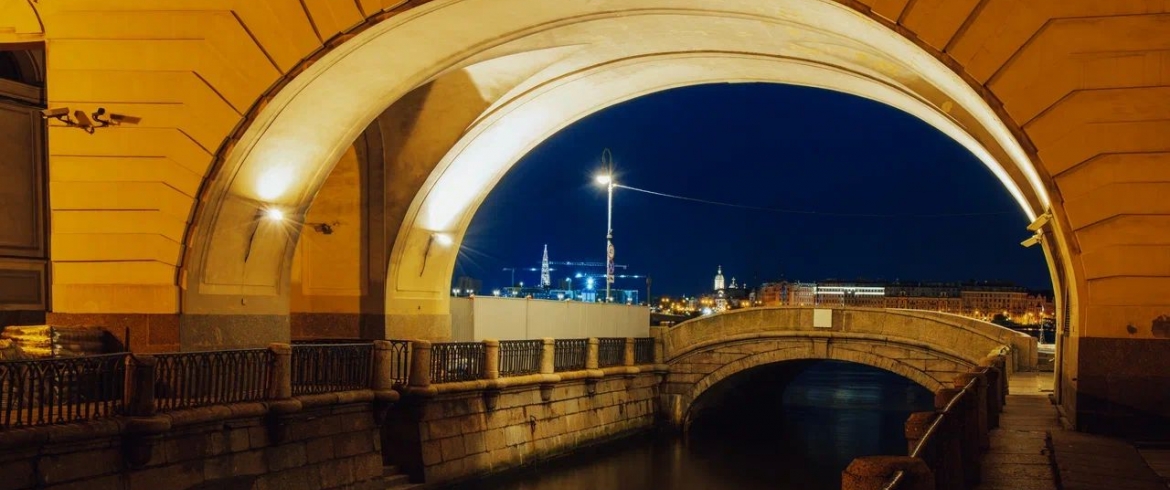 Opened in
1720 (wooden), 1766 (stone), 1934 (reinforced concrete)
Architect
K.M. Dmitriev (1934)
Hermitage Bridge across the Winter Canal (former Naberezhny: 1738 Zimnedvortsovy: the middle of the ХVIII century, the Palace: the end of the ХVIII century - 1828) spans the 1st and the 2nd Admiralty islands in Central District of St. Petersburg. This is the oldest stone bridge in Saint Petersburg. It is located on Palace Embankment near the Hermitage Theatre.
The wooden drawbridge over the Winter Canal was built at its place in 1720.
In 1763-1766 during the construction of the granite embankments of the Neva River it was rebuilt in the single-span stone arch bridge.
The superstructure was a hingeless arch designed as a continuous brick vault lined with granite and outlined by ellipse. The bridge abutments were made of rubble masonry on the hydraulic mortar, on pile foundation, and lined with granite. The railing in the form of granite parapet was installed on the bridge. Granite slabs were laid on the sidewalks. The roadway, which had cobblestone covering, is separated from the sidewalk with granite drainage gutter with granite curb.
In 1934, due to the damage of the brick arch, the bridge was renovated under the project of engineer A.D. Sapershtein of Dormostproekt and architect K.M. Dmitriev. The brick arch was replaced by reinforced concrete one. The width of the bridge increased by 1.4 meters to the side of the Neva River, the height of the span reduced to 0.5 meters, which made it possible to soften the slopes descending to the Winter Palace. The bridge has become less "humpbacked". Cobblestone pavement on the roadway was replaced by asphaltic concrete one.
In 1979 the major repair of the bridge took place: granite slabs on the sidewalk were straightened, cobblestone covering the approaches to the bridge were repaired, sand blasting of granite facades and bridge abutments was performed.
It is interesting that the main character Lisa of the opera of P.I. Tchaikovsky "The Queen of Spades" jumps from Hermitage Bridge into the water of the Winter Canal. The common name of the bridge is Lisa's Bridge.
Today Hermitage Bridge continues to be one of the favourite places of St. Petersburg photographers and artists. The bridge view from Millionnaya Street is undoubtedly one of the symbols of St. Petersburg. The bridge is guarded by the Committee on State Control Use and Protection of Historical and Cultural Landmarks.
На комфортабельных однопалубных и двухпалубных теплоходах
30
экскурсионных круизов по Неве, рекам и каналам
Купить билет