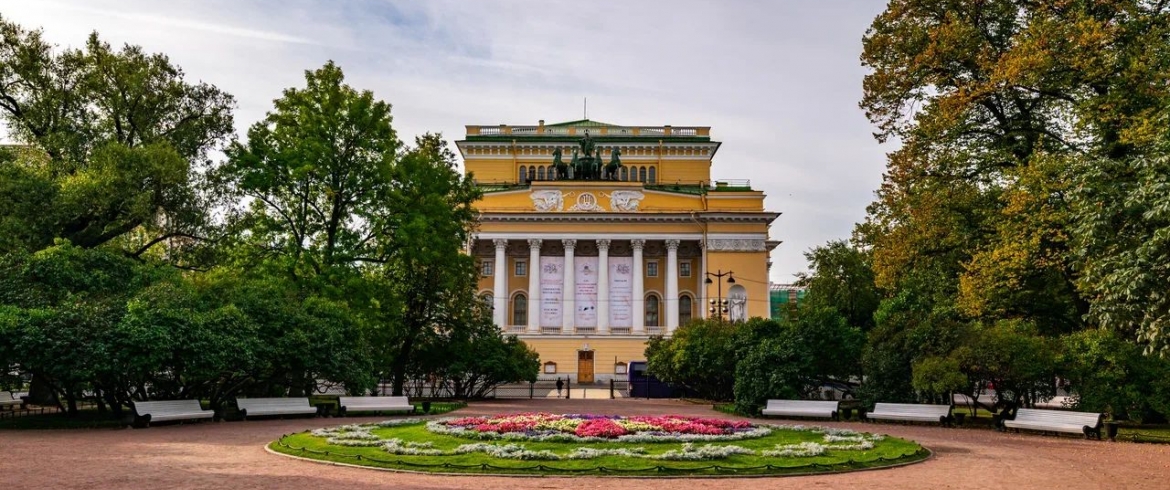 Catherine Square is located in the center of Ostrovsky Square between Nevsky Prospect, the Alexandrinsky Theater, the Russian National Library and the Anichkov Palace. In the middle of the garden stands the famous monument to Catherine II.
The ensemble of Ostrovsky Square was created by Carlo Rossi in the 19th century. And although the architect was not able to fully implement his idea, this architectural ensemble remains one of the highest achievements of Russian town-planning art and is included in the World Heritage List. No wonder Alexandrinsky Theater is adjacent to the street, bearing the name of the architect Rossi.
In the XIX century the square was called Alexandrinskaya - by the theater, and on October 6, 1923 it was renamed as the Square of the Writer Ostrovsky in honor of the Russian wrighter Alexander Ostrovsky.
The history of the Catherine Square (Kate's garden) goes back to the 18th century. Even before the arrangement of the square there were gardens of the Anichkov Palace. And in 1832, simultaneously with the opening of the theater, garden master Yakov Fedorov made a regular square here.
In 1873 a monument to Empress Catherine ΙΙ was opened in the center of the square. Artist Mikhail Mikeshin took part in the construction of the, sculptural works were performed by Matvey Chizhov, and Alexander Opekushin created the figures surrounding the pedestal.
Five years later, in 1978, the square was re-planned according to the project of the vice-president of the Horticultural Society E.L. Regel. Straight tracks have been replaced by three circular interconnected platforms and two pairs of side arch paths. This is how we know this square today (although after the war the square that suffered the blockade was again re-planned, and only in 2001 its historical appearance was restored).
Square – 9745 sq.m.
Length – about 140 m
Width – about 70m
Индивидуальные экскурсии по городу и пригородам на автомобиле и минивэне
Петербург для тех, кто ценит комфорт и внимание
Заказать