Courtyard of Nina Vasilievna Yashchenko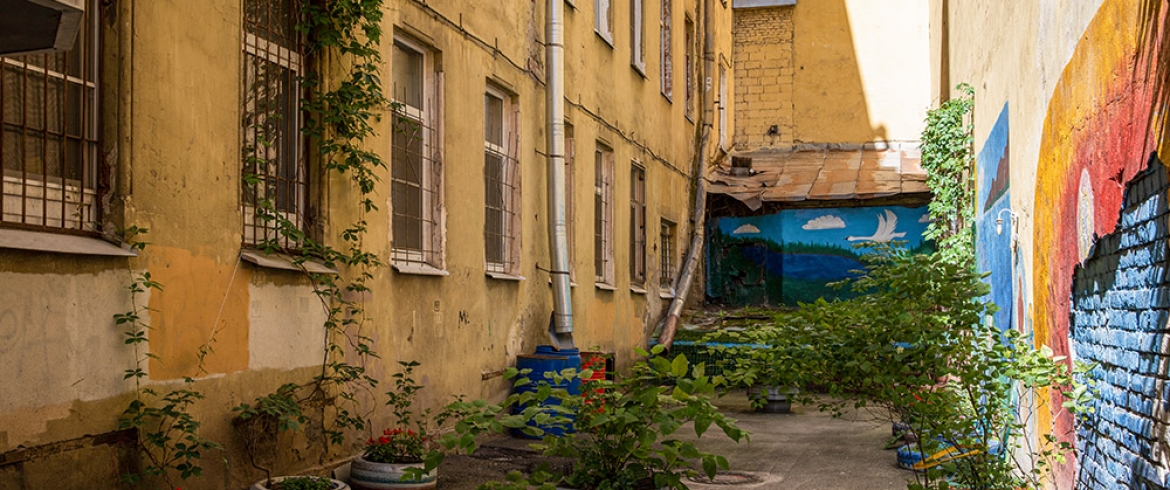 Address
Bolshoy pr. P.S., 19
Years of foundation
1906, the courtyard was landscaped in 2005.
A secret courtyard with a garden, fabulous drawings on the walls and outdoor furniture can be found in house no. 19 on Bolshoy Avenue of the Petrogradskaya Side. This is the second courtyard, located in the back, but the painting can be seen directly from the avenue, from the arch. In the courtyard there are many flower beds and an arch entwined with greenery.
The building itself - the apartment house of the Kornev merchants - was built in 1905–1906. in eclectic style designed by Pavel Mulkhanov. And the improvement of the courtyard began in the middle of the 2000s - at the initiative of a local resident, blockade veteran Nina Vasilievna Yashchenko.
The entrance to the courtyards, as usual, is closed with a coded lock, but if you wait for someone from the house, they will readily let you in, and if you're lucky, they will give you a short excursion. Residents are proud of their courtyard and its keeper, and in memory of Nina Vasilyevna they erected a memorial plaque on the wall.
Индивидуальные экскурсии по городу и пригородам на автомобиле и минивэне
Петербург для тех, кто ценит комфорт и внимание
Заказать