Palace
The Palace of Grand Duke Vladimir Alexandrovich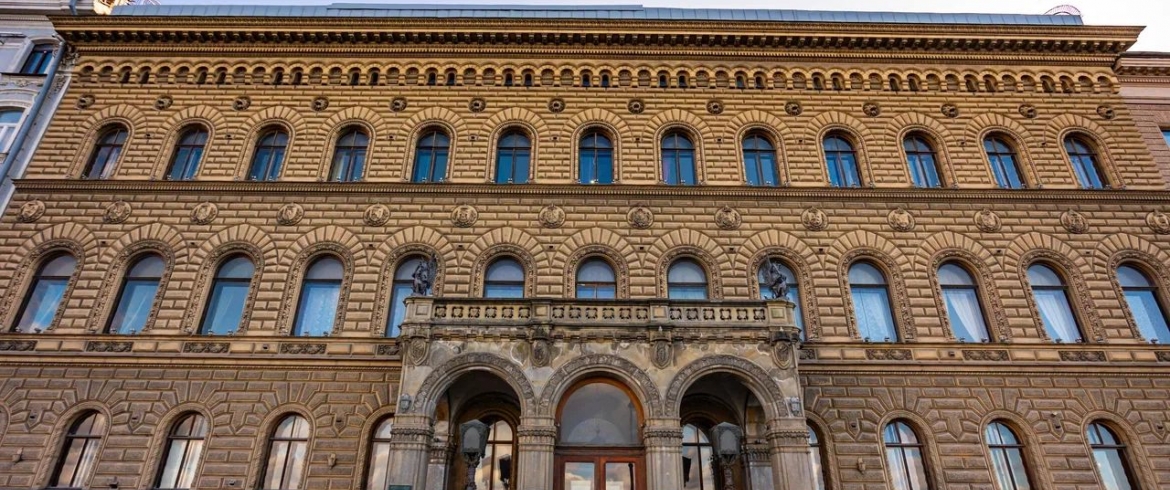 Address
Dvortsovaya Embankment, 26
Years of foundation
1867-1872
The palace was erected by the architect A.I. Rezanov under the state order for the Grand Duke Vladimir Alexandrovich. The building is an artistic standard of the style of "historicism" in Russia.
Grand parlors, the Ballroom, the reception room of Grand Duchess Maria Pavlovna are done in the style of rococo. The "Crimson Lounge" and the personal library of the Grand Duke recreate the Renaissance style, the dining room is the Gothic style. The boudoir is executed in the Moorish style. From the interiors in the Russian style, one of the best ceremonial halls - Oak (Grand Banquet), created by Rezanov and V.A. Shreter, has survived. The main staircase of the Palace with its elegant turn to the White Hall and unique painted mirrors of the Italian master T. Kelazzi is distinguished by special refinement.
When planning and decorating the interiors, the architects took into account the high state status of Grand Duke Vladimir Alexandrovich, the son of Emperor Alexander II and the brother of Emperor Alexander III.
In 1888-1893, the interiors of the palace were reconstructed under the guidance of the architect M.E. Mesmakher. On the first floor was created the Lower Banquet Hall with a Venetian vaulted ceiling. On the second floor appeared the Rotunda Library in the style of the German Middle Ages. One of the undoubted adornments of the Palace was the "Golden Staircase" in the style of Louis XIV.
In 1893-1903, the court architect N. von Gauguin carried out the reconstruction of the premises on the half of Grand Duke Vladimir Alexandrovich and, together with the architect R. Melzer, re-executed Vladimir Alexandrovich's cabinet in the Art Nouveau style. In 1910, the court architect A. Pronin at the request of Grand Duchess Maria Pavlovna creates a Winter Garden on the second floor.
Most of the ceremonial rooms and living rooms have reached our time almost in their original form. Here you can see numerous items of residential interior: furniture sets, lighting fixtures, a collection of porcelain, unique mirrors, etc.
After the revolution, the first in our country House of Scientific Intelligentsia - now the House of Scientists was organized here.
По Санкт-Петербургу и туристическим пригородам — пешком, на автомобиле или минивэне
65
увлекательных индивидуальных экскурсий
Заказать