Palace
Palace of Peter I in Strelna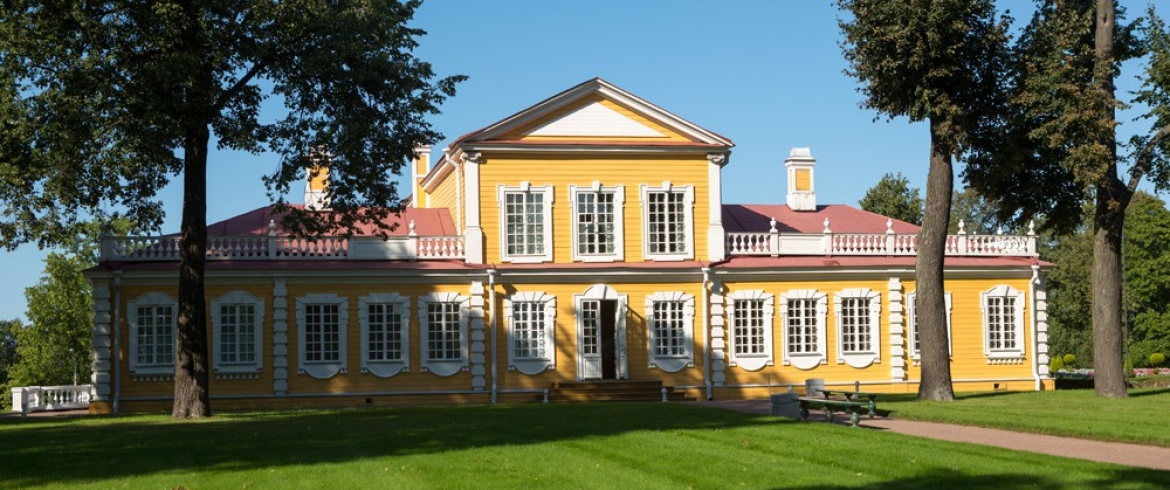 Address
Strelna, Maksima Gorkogo st., 2
Monday
Closed
Tuesday, Wednesday, Thursday, Friday, Weekend
10:30 – 18:00
Years of foundation
1716-1720
Architects
Project author unknown, rebuilt by F. B. Rastrelli
Ticket price
Entrance - 400 rubles. Entrance for citizens of the CIS - 250 rubles. Entrance for tax residents of the Russian Federation - 250 rubles. Preferential for citizens of the Russian Federation - 150 rubles. Children under 16 are free.
To the west of the park of the Konstantinovsky Palace, on a high hill, is the earliest building of Strelna - a small white-yellow wooden palace typical for the architecture of Peter the Great. This is the only building left from the modest country estate of Peter I. Here he stayed during his frequent trips to Kronstadt, Peterhof and Oranienbaum.
The construction of the imperial estate began here in 1711, the palace itself appeared five years later. The author of the original draft is unknown. In 1719-1720, the palace was rebuilt by order of the king: a soap box with a lantern and a mezzanine appeared.
There were household services on the site: greenhouses, apiary, fruit and lime orchards, a vegetable garden, on the beds of which honey-bearing fragrant plants and various vegetable crops were planted. A feature of the Petrovsky garden was the cultivation of spicy and medicinal plants in one garden. This tradition comes from Holland, which is why it was called the "Dutch-style vegetable garden". According to legend, it was in Strelna that, by decree of Peter, for the first time in Russia potatoes were planted.
The wooden palace in Strelna, as a memory of Peter, was the subject of special care and attention. In the middle of the XVIII century, under Elizabeth Petrovna, a major restoration of a dilapidated wooden building was carried out under the guidance of architect F. B. Rastrelli. Under Catherine II, the palace was again restored, and since 1786 a military hospital was located in it. The next restoration was carried out in 1837-1840 by the architect H.F. Meyer, who dismantled the building and recreated it in accordance with the project of F. B. Rastrelli in 1750.
For a long time, the palace, miraculously survived during the Great Patriotic War, served as a hospital building, then a kindergarten. In 1987, it was transferred to the Peterhof Museum, and restoration work began, completed in 1999. Based on the preserved materials, the interiors of the palace were recreated, where the museum composition was located.
The collection of the palace contains personal items of the first Russian emperor: a festive costume of Peter I; patchwork, according to legend, sewn for the king by his wife Catherine I; screen for the bedroom, painted in the style of "chinoiserie". Interesting exhibits include the bronze bas-relief of Peter, made according to the model of the sculptor K. Rastrelli; cast of the imprint of the hand of the emperor; the ceremonial portrait of Peter I is a rare lifetime portrait of a young tsar by an unknown Russian artist. The palace is under state protection as one of the rare, preserved to this day, monuments of Russian architecture of the early XVIII century.
Индивидуальные экскурсии по городу и пригородам на автомобиле и минивэне
Петербург для тех, кто ценит комфорт и внимание
Заказать