Bridge
Tsarskoye Selo Railway Bridge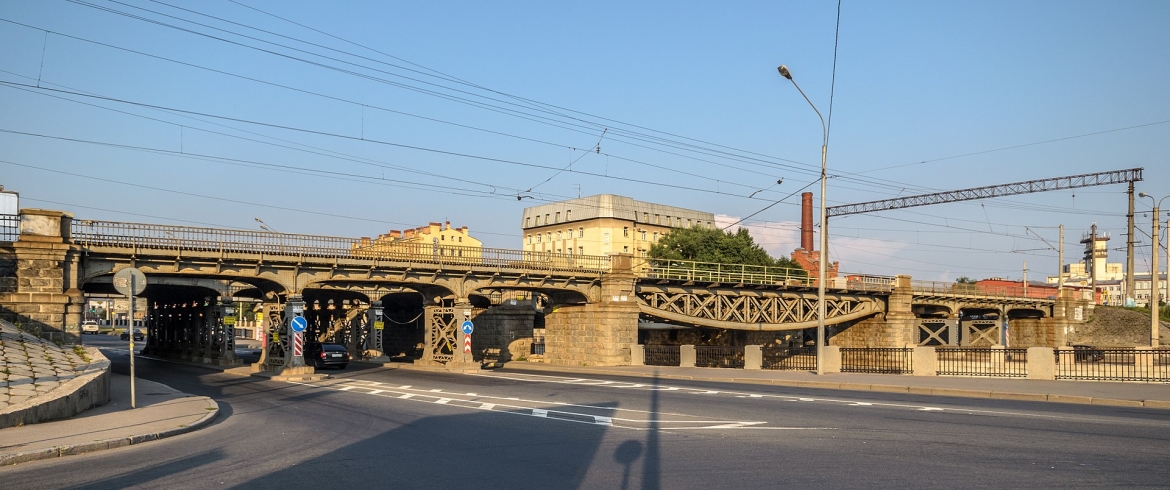 Address
Obvodny canal emb., 13а
Opened in
1837 (wooden), 1869 (metal), 1904 (modern)
The Tsarskoye Selo railway bridge was thrown over the Obvodny Canal in 1837 during the construction of the first railway in the Russian Empire, connecting St. Petersburg with Tsarskoye Selo.
The first bridge was a wooden seven-span arched on stone foundations, the span was 24.5 m. Its laying took place on August 23, 1836, the opening - along with the Tsarskoye Selo Railway - on October 30, 1837. The name Tsarskoye Selo Bridge has been known since 1857.
In 1868-1869, the bridge was rebuilt into a metal one according to the design of the engineer Kryukovsky. The span consisted of iron trusses of a parabolic system.
The existing Tsarskoye Selo railway bridge was built during the modernization of the railway in 1900-1904. The bridge is made in the techniques of industrial Art Nouveau, has a strictly symmetrical composition, based on a harmonious combination of elegant curved shapes. In fact, there are two bridges: the east is three-way and the west is single-track. Each overpass consists of one central span and six lateral, three on each side.
During the construction of the crossing, advanced engineering structures were used for their time. This is a rare example for St. Petersburg of the construction of a bridge span with trusses facing downward with a curved side. In the construction of the bridge were used polygonal trusses facing upward with a curved side. Metal structures are fastened with rivets.
In this form, the bridge has survived to this day.