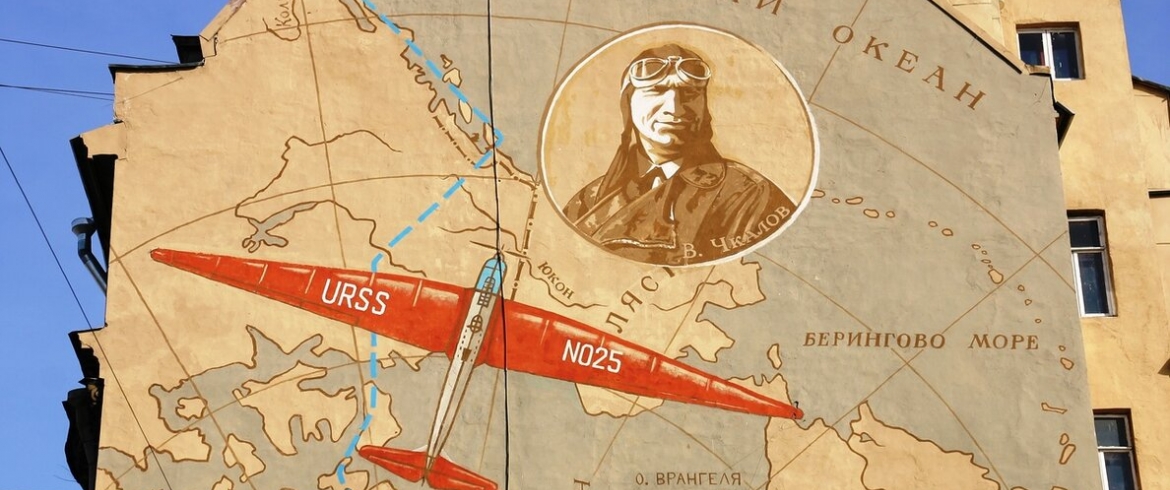 Address
Pionerskaya st., 22
Years of foundation
1915 (apartment building), 1997 (bust of Chkalov), 2011 (painting the firewall)
The square and the firewall painting dedicated to the conquerors of the sky are located at the intersection of Chkalovsky Prospekt and Pionerskaya Street, next to the Mozhaisk Military Space Academy.
Chkalovsky Square was defeated in 2010. Even earlier, in 1997, in the wasteland at the former apartment building of F.P. Petrov –D.G. Lurie installed a bust of Valery Chkalov by sculptor Yagub Imranov, who lived in this house.
After 14 years, a two-part painting appeared on the firewall: "Flight of Chkalov through the North Pole" and "Space exploration". It depicts portraits of people who participated in the development of heaven and outer space: V.P. Chkalov, A.F. Mozhaysky, Yu.A. Gagarin, S.P. Korolyov and K.E. Tsiolkovsky. Here is Peter I, whose name can be associated with the cosmos only very conditionally.
Индивидуальные экскурсии по городу и пригородам на автомобиле и минивэне
Петербург для тех, кто ценит комфорт и внимание
Заказать