Church
Chapel in the name of St. Alexander Nevsky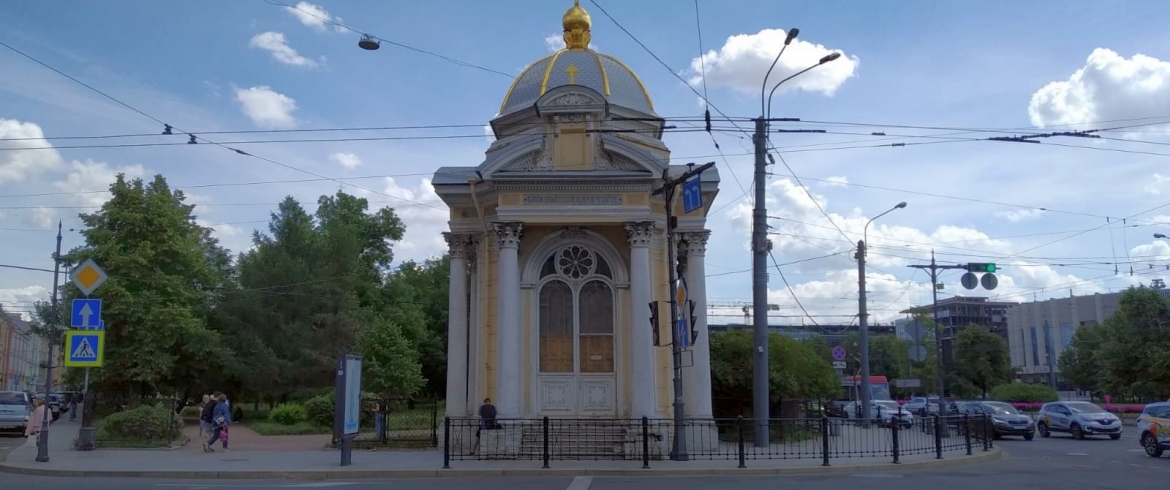 Address
Bolshoy pr. P.S., 1/31/26
Years of foundation
1882-1886
In the 1870s, from the Prince Vladimir Cathedral to the Tuchkov Bridge Dam, a square was destroyed. The initiator of these works was personally Emperor Alexander II: in 1870, he indicated that the area at the cathedral "in appearance does not correspond to the external improvement of the capital."
In 1882-1886, a chapel was erected in memory of Emperor Alexander II Alexander Nevsky designed by architect Nikolai Kovrigin. It was consecrated on June 2, 1886 by Bishop Arseniy of Ladoga.
In Soviet times, the chapel was closed, in the building there was a tobacco shop, an employment office, a flower shop. In the 2000s, the Union of Restorers restored the decor of the chapel at its own expense. Planks with gilded letters on the central portal were recreated, the roof was made of polymer materials. A gilt cross, restored according to old drawings, and a small cross above the entrance were installed on the dome. The chapel is returned to believers.
Today, the cathedral, square and chapel are monuments of history and culture of federal significance.
Индивидуальные экскурсии по городу и пригородам на автомобиле и минивэне
Петербург для тех, кто ценит комфорт и внимание
Заказать