Church
Church of St. Catherine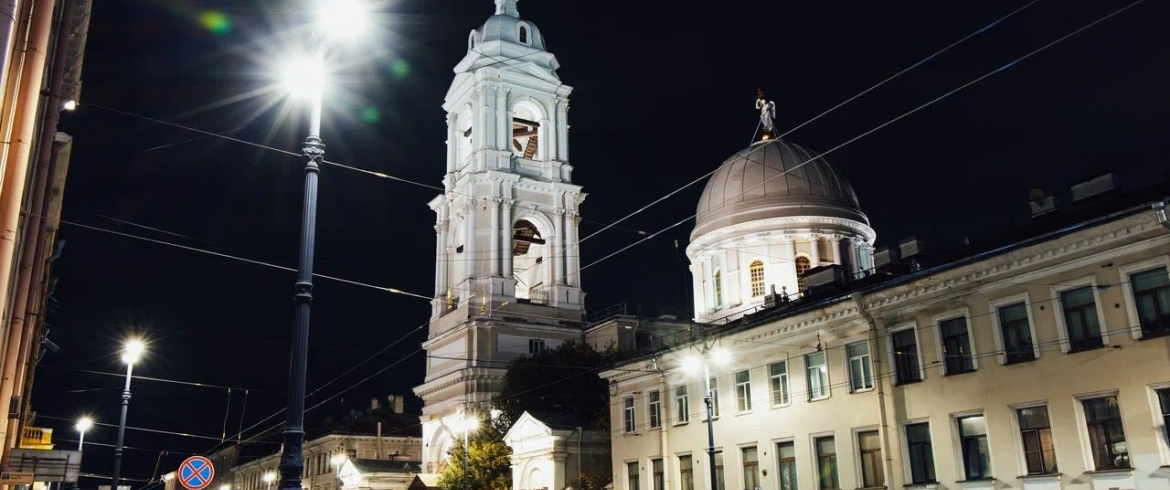 Address
Cadetskaya line, 27
Years of foundation
1811—1823, 1863
Architect
AA Mikhailov (second), FI Nesterov
Active Orthodox church
The Orthodox Church of St. Catherine was founded in 1811. It was designed in Greek style by architect A. A. Mikhailov the 2nd. In 1863, a stone bell tower was erected on the western side by the project of Academician F.I. Nesterov. One-story pavilions, a lodge and a chapel, were built on both sides of the bell tower where the image of the St.Great Martyr Catherine was stored. An iron grating with two gates designed by V.A. Bolotov was installed between the pavilions.
Initially, the church building was a central-domed construction with a Greek cross at the heart of it. The major vertical element was a dome put on a high drum in the form of a rotunda with a colonnade of an Ionic order and an angel sculpture on a copper ball on its top. In the hands of the angel is a copper gilded cross. The bell tower over the western facade violated the original composition.
Later, the appearance of the church remained almost unchanged. The church was light and spacious inside. The church had two side chapels: the right one in the name of the prophet John the Baptist, and left one in the name of the Apostle John the Devine.
After the revolution, the church was looted. In 1933, the building was handed over to the Hydrological Institute for organizing a laboratory in its premises. In June 1942, shells hit the chapel of the church. A cross from the hands of the angel crowning the dome was seized.
In March 1996, part of the building was returned to the believers. Regular worship services take place only in the premises under the bell tower. Recently, the preparatory work has been carried out for the complete restoration of the sculpture of the Angel with a cross crowning the dome of the church.
Индивидуальные экскурсии по городу и пригородам на автомобиле и минивэне
Петербург для тех, кто ценит комфорт и внимание
Заказать