Музей
Grand Peterhof Palace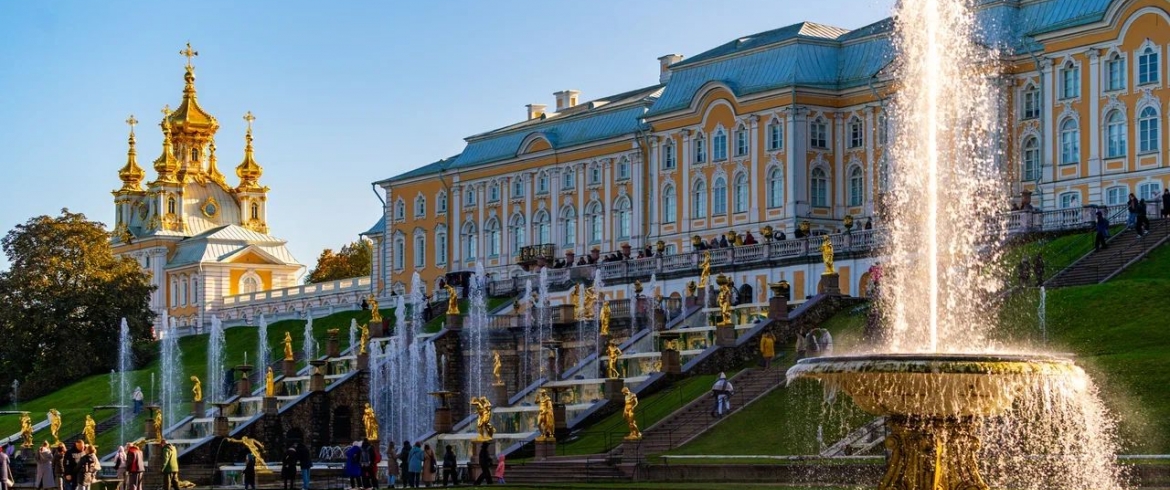 Address
Petrodvoretz, Razvodnaya st., 2
Monday
Closed
Tuesday, Wednesday, Thursday, Friday, Weekend
10:30 – 18:00
Entrance fee
Full ticket - 1000 rubles

The center of contemporary Peterhof as an ensemble is the Grand Peterhof Palace, which served as the summer residence for the whole emperor's family. Today it is a museum, where works of painting, sculpture, antique furniture are represented. The palace unites the ensemble of Lower Park and the Upper Garden.
The existing appearance of the Grand Peterhof Palace was formed during almost one and a half centuries. At the time of Peter it was a small two-story building, built in 1715-1725 according to the design of architects I. F. Braunstein, J.-B. Leblon and N. Michetti, which served mainly for receptions and celebrations. In 1732, according to the design of M. Zemtsov, two galleries were attached to the palace, and in 1745–1755 the building was rebuilt according to the Versailles model, in the so-called style of mature baroque. The author of the project was F.B. Rastrelli - the favorite architect of the Empress Elizabeth. He managed to preserve the walls of the Peter Palace, incorporating them into a new environment. The interiors of the palace at that time were impressing with dynamics and fabulous luxury. The walls of the halls were decorated with gilded carvings, mirrors created the impression of endless perspectives and visually increased the internal space.
In the second half of the 18th century, classicism replaced baroque pomp. By order of Empress Catherine II, architect Yu. M. Felten redesigns the Dining Hall, the Throne and Chesme Halls, and J.-B. Wallen-Delamot creates two Chinese offices.
The palace changed in the XIX century. In the eastern wing, overlooking the Upper Garden, architect A.I. Shtakenshneider adding third floor, creates eight interiors on the occasion of the marriage of the Emperor's daughter, Olga Nikolaevna, with Prince Karl of Württemberg. Since then, this part of the palace is called Olginskaya half.
The Grand Peterhof Palace was almost completely destroyed during World War II, in 1952 it was restored.
По Санкт-Петербургу и туристическим пригородам — пешком, на автомобиле или минивэне
65
увлекательных индивидуальных экскурсий
Заказать