Bridge
Bolshoy Konyushenny Bridge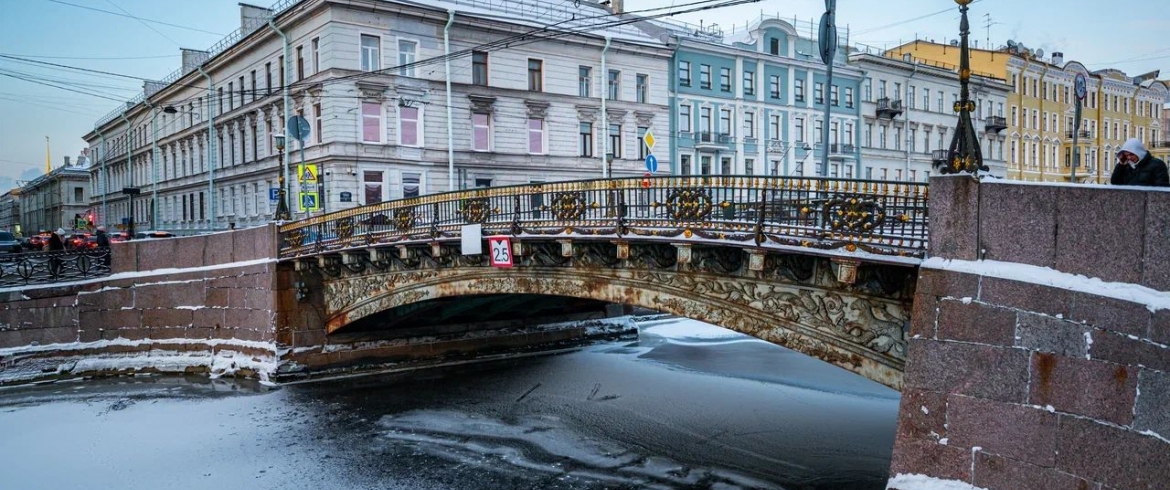 Architect
E.A. Adam, V. von Tretter
Bolshoy Konyushenny Bridge (formerly Grechesky, Grebetskoy, the 2nd Konyushenny, Konyushenny, Konyushenny Bolshoy) connects Kazansky Island and the 1st Admiralty Island on the River Moyka in Central District of St. Petersburg. The modern name of the bridge comes from the nearby building of the Imperial Stables. Passing over the bridge you can get to Konyushennaya Square, and on the other hand, - going down Moshkov lane to get out to the Palace Embankment and enjoy the beauty of the Neva River, the Spit of Vasilyevsky Island and Peter-and-Paul Fortress on the opposite site.
In 1737 a wooden bridge with the central lifting deck for passing ships existed there. In the spring of 1827 designing of a new bridge started. Emperor Nicholas I wanted to see here "... all possible strength and all possible beauty ..." In 1828 it was rebuilt in cast iron single-span arch bridge.
Superstructure was built of cast-iron "boxes", as the tubing used in the construction of underground tunnels connected by bolts. Tubing was manufactured at the Olonets foundry. Architects P.P. Bazen and K.I. Rossi participated in the design of the bridge. The facades of the superstructure were decorated with overlaid gold architectural details. There were massive rock abutments on pile foundation, faced with granite. Granite parapet was installed on the abutments. Railing - cast iron grates with laid-on moulding. At the entrance of the bridge, cast iron lamps on granite pedestals with lights were installed. The bridge had an asphaltic concrete pavement. The roadway is separated from the curb by granite kerb stone. The bridge appearance has retained over 117 years.
In 1935 the bridge was strengthened with reinforced concrete vault due to existing strains of supports and superstructures. Reconstruction carried out under the project of engineers M.I. Zhdanov and A.D. Saperstein, has helped to keep this architectural masterpiece which is not only a work of art.
In 1951 restoration work of architectural details of the bridge, stand lamps and lights under the project of architect A.L. Rotach was performed.
In 1999 major repair was performed: waterproofing was replaced; and restoration of railing grating, bridge facades and stand lamps was carried out.
The last restoration of the crossing took place in 2000.
The bridge is guarded by the Committee on State Control Use and Protection of Historical and Cultural Landmarks.