Church
Blagoveschenskaya church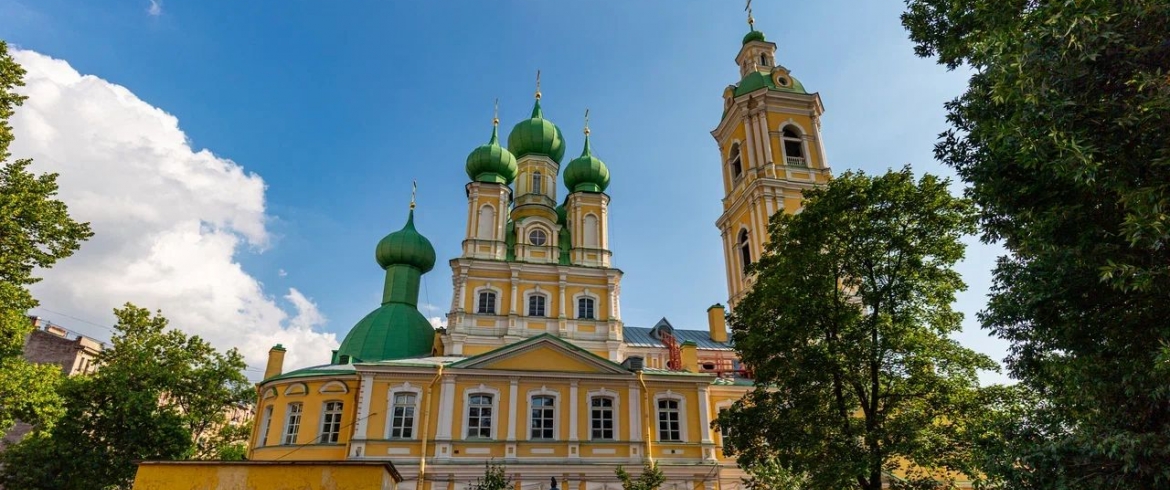 Address
8th line of the Vasilevsky island, 67
Years of foundation
1750-1765
Active Orthodox church
The wooden Blagoveschenskaya church was built in the 1740s by architect Giuseppe Trezzini. It existed until 1963. There were many famous historical figures among the parishioners of this church, including Vasily Trediakovsky and Mikhail Lomonosov. The stone Blagoveschenskaya Church located on the Vasilievsky Island was founded in 1750. The author of the project has not been identified (according to one of the versions, it was also Giuseppe Trezzini).
High five-domed church with a separate cupola above the altar and three-tier bell tower is somewhat unusual for St. Petersburg church architecture. By its appearance it is more like Moscow church architecture. The appearance of the church testifies to the synthesis of the traditions of Old Russian architecture and the architecture of mature baroque. The composition and decoration of the facades of the church are performed according to the baroque techniques. The bell tower which was built later was designed in classical style, using rustic stones, paired pilasters and archivolts with castle stones. A vast area of the church is surrounded by a fence. In the XVIII century there was a cemetery on the territory of the church.
In the middle of the XIX century, the church was temporarily transferred to the Voskresensky Novodevichy convent, but it was returned to the parish back in the 1860s. The church was repainted by R.F. Vinogradov. Since 1862, the Community of Assistance to the Poor Parish, which is the oldest community in St. Petersburg, was functioning in the church, operating an almshouse, a shelter, a school and cheap housing.
In the Soviet years the church was closed, and the historic building was recognized as being in emergency condition. For a long time it housed an office and warehouses. Later, the church was seriously damaged during the war. In 1992, the Blagoveschenskaya church has been returned to the believers. Now the restoration works on the church are underway.
Индивидуальные экскурсии по городу и пригородам на автомобиле и минивэне
Петербург для тех, кто ценит комфорт и внимание
Заказать