Church
The Catholic Church of St. Catherine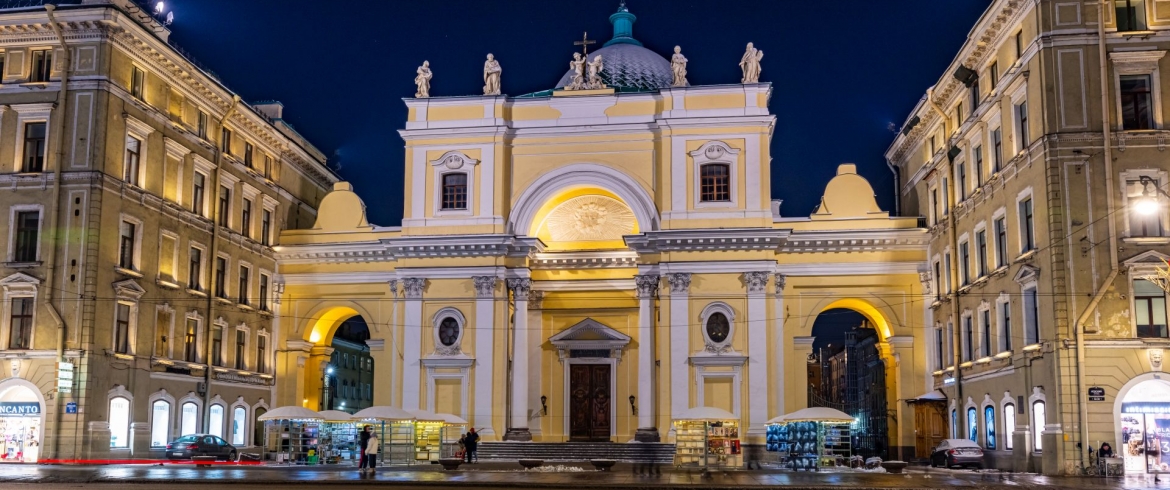 Address
Nevsky prospect, 32-34
Years of foundation
1763–1783
Architect
Pietro Trezzini, Jean-Baptiste Wallin-Delamot
An active temple of the Roman Catholic Church
The Catholic Church of St. Catherine of Alexandria is the oldest temple of the Roman Catholic Church in St. Petersburg. It was built in 1763-1783 in the early classicist style by the architects Pietro Trezzini and Jean-Baptiste Vallin de la Mothe.
The building has the form of a Latin cross with a transverse transept with a large dome on it. The length of the building is 44 meters, the width - 25 meters, the height - 42 meters. The main facade looks like an arch portal supported by free-standing columns. Above the facade there is a high parapet with the placed figures of the four evangelists and angels holding the cross.
The temple has always been not only a decoration of the Northern capital, but also a symbol of tolerance and interaction of cultures. Architects Bartolomeo Rastrelli and Auguste Montferrand, artist Fedor Bruni, composer Mikalojus Čiurlionis, Princesses Zinaida Volkonskaia and Alexandra Golitsyna, Prince Ivan Gagarin, the future Decembrist Mikhail Lunin and many others prayed there. There were communities of Poles, French, Germans, Italians, Lithuanians, Latvians and Russians in the parish.
Since 1884 the Roman Catholic Charity operated within the church as well as various schools and gymnasiums. The kings of Poland Stanislav August Poniatowski and Stanislav Leszczynski were buried in the dungeons of the temple. Till nowadays the French General Jean Victor Moreau, the chief of the Allied armies in the war with Napoleon, lies in the crypt of the church.
In September 1938 the church was closed and ruined. In 1992 the city authorities decided to return it to the community. A large-scale restoration work began the same year. On April 16, 2000 the altarpiece was consecrated. In 2013 the church was granted the status of a small basilica, the only one in Russia.
Индивидуальные экскурсии по городу и пригородам на автомобиле и минивэне
Петербург для тех, кто ценит комфорт и внимание
Заказать