Знаменитое здание
Baltiiskaya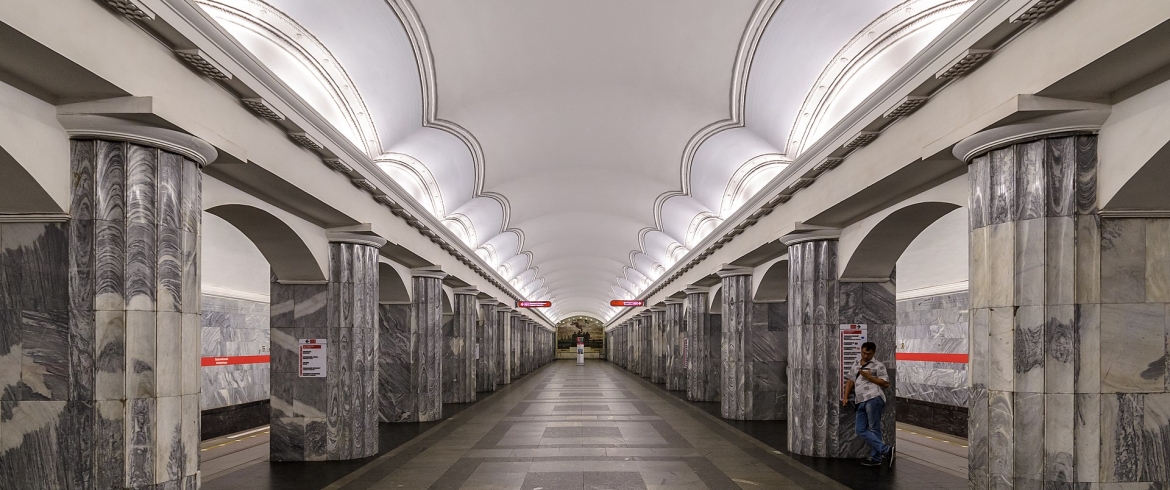 Address
Square of the Baltic Station
Architects
M.K. Benoit, A.I. Kubasov, F.F. Oleynik, engineer S.M. Epstein
Station of the 1st (Kirovsk-Vyborg, Red) line, one of the first metro stations in St. Petersburg, was opened on November 15, 1955 as part of the first stage of the Avtovo metro - Ploshchad Vosstaniya. Named by the Baltic Station, located nearby.
The pavilion and the underground hall of the station were designed by architects M.K. Benoit, A.I. Kubasova, F.F. Oleinik and engineer S.M. Epstein. The design is dedicated to the theme of maritime glory of the Soviet Union.
Between the columns of the portico of the ground pavilion, in the niche behind the colonnade above the entrance doors, there are five bas-reliefs of prominent Russian naval commanders. The wall of the checkout hall is decorated with reliefs.
The bluish-gray marble facing of the underground hall recalls the harsh waters of the Baltic. The supports of the arches are decorated with half columns. The ribbed arch of the ceiling, bordered by two zigzag blue ribbons, is associated with a swollen sail. Decorative bars with images of anchors are installed on the doors of the track walls.
The end wall of the central underground hall is decorated with a mosaic "1917", made according to the sketch of artists G.I. Rubleva and I.G. Rubles using the Florentine mosaic technique - the pattern is made of large pieces of marble and colored stones. The panel depicts the revolutionary Baltic sailors, together with workers and soldiers, marching to storm the Winter Palace, in the background is the silhouette of the cruiser Aurora.
The pavilion is attached to the eastern wing of the building of the Baltic Station and faces the six-columned porch-loggia to the forecourt. From the Baltic Station you can take an electric train to the palaces and parks of Peterhof and Oranienbaum.