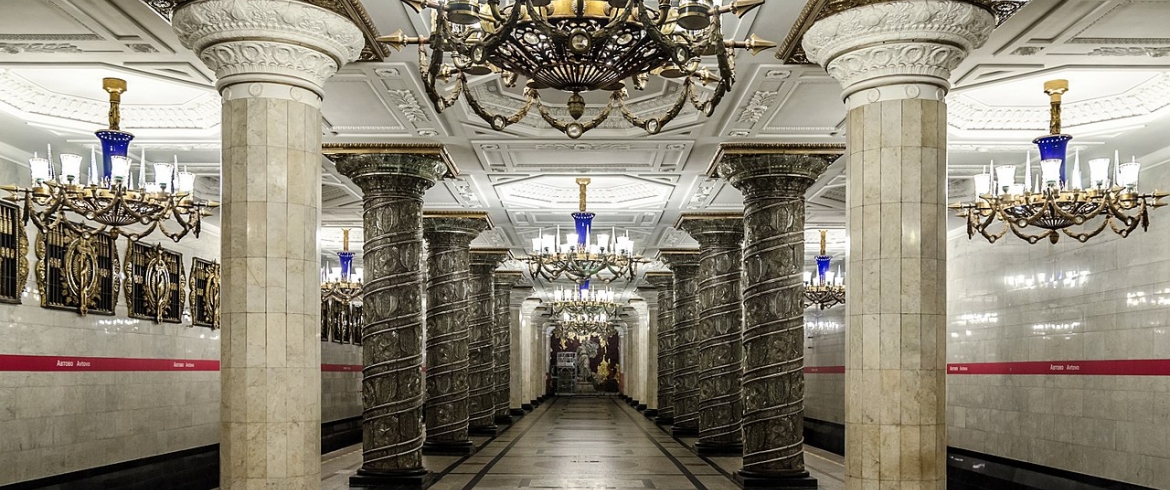 Address
Stachek pr., 90, к.2
Architects
E.A. Levinson, A.A. Grushke, engineer S. M. Epstein, corresponding member of the USSR Academy of Sciences N.N. Kachalov
The station of the 1st (Kirov-Vyborg, "Red") line, one of the first in St. Petersburg, was opened on November 15, 1955 as part of the first stage of the Avtovo metro station - Uprising Square. It was here that the first train of the Leningrad metro arrived. The station is named after the historic Avtovo district (once there was a Finnish derain Autovo here).
Avtovo is the only shallow station in the first stage of the Leningrad Metro, it is built at a depth of 12 meters, and it does not have escalators.
The pavilion and the underground hall of the station were designed by architects E.A. Levinson, A.A. Grushke and engineer S. M. Epstein. Avtovo is one of the 12 most beautiful metro stations in the world.
The outdoor pavilion, made in the style of Soviet neoclassicism, is decorated with a double six-columned portico and a dome on a large light drum. But the main beauty is inside, in the underground hall, where 46 columns support the flat ceiling, of which 30 are faced with marble, and 16 with decorative plates made of cast glass with a reverse relief.
The inner surface of the glass panels has a faceted relief, with an angle of faces of 80 degrees. Thanks to this faceting, an optical effect is created - the light is reflected from the faces before it reaches concrete, therefore, the supporting structures under the glass are not visible, and all the columns seem to be glass monoliths. Scientists, especially a well-known specialist in optical glass, and corresponding member of the Academy of Sciences N.N.Kachalov, provided great assistance in creating the station.
Glass as a facing material in the subway was used for the first time. Leningrad architects have found a way to fix the glass panels of the slabs on concrete, which ensured their safety: the panels are fixed with a decorative metal tape wrapping around the columns.
The initial design involved glazing all the columns of the underground hall. However, the contractor did not have time to complete the casting for the commissioning of the object, and the columns were temporarily lined with stone. And after the speeches of N.S. Khrushchev against the "architectural excesses" no longer returned to the issue of facing the remaining columns.
The theme of the design of the station is the defense of Leningrad. Chandeliers, lamps, lattice ornaments are decorated with laurel branches, gilded swords and other emblems of military prowess. The end wall of the central underground hall is decorated with a mosaic panel "Victory" by V.A. Voronetsky and A.K. Sokolov.
The Avtovo station is located in the industrial and business district of the city without any special attractions. But it is from here, from Stachek Avenue, shuttle buses go to the palaces and parks of Peterhof.