Church
St. Catherine's Armenian Church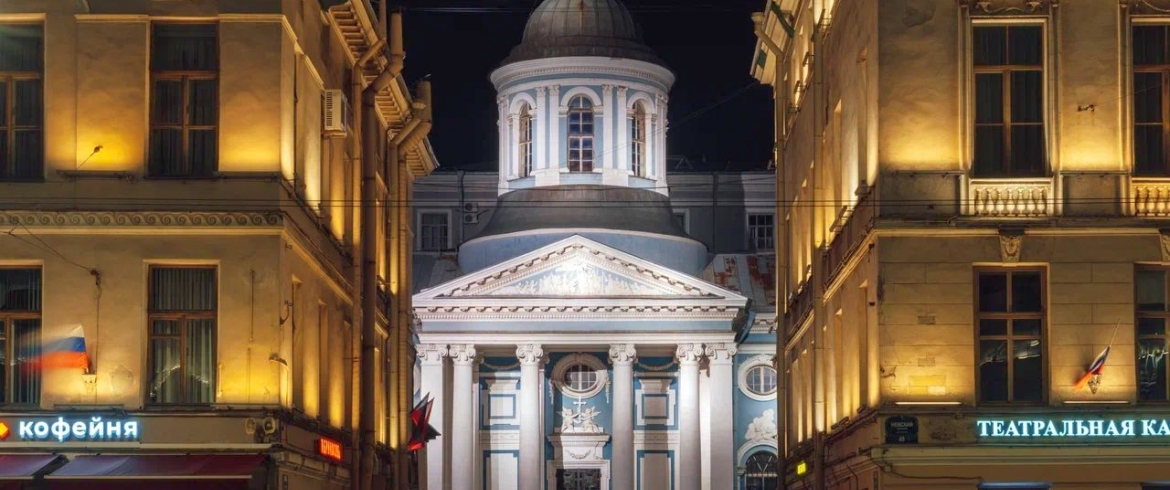 Address
Nevsky Prospect, 40-42
Years of foundation
1771–1776
An active temple of the Armenian Church
Armenian merchants and craftsmen appeared on the banks of the river Neva in the early 18th century. The first head of the local Armenian community requested Empress Anna Ioannovna to allow the construction of the church on Vasilievsky Island. The permission was given, however the church remained unfinished.
In 1770, Catherine II handed over a plot of land on the north side of Nevsky Prospect for the construction of the Armenian church. The community immediately began to raise funds. The construction of the church and adjoining buildings was led by the architect Yuri Matveevich Felten. A slender and elegant temple rose eight years later in front of the unfinished Gostiny Dvor. Later a whole ensemble of the Armenian community buildings formed around it.
The elegant church on Nevsky Prospect is built in line with the traditions of early Russian classicism. It is one of the finest examples of this style's architecture. The buildings of strict architecture style "squeeze" the temple from Nevsky Prospect, emphasizing its festivity and central place in the ensemble. The church is crowned with a dome on a slender drum. The facing Nevsky facade is marked by a strict portico. There is a sculptural relief "Baptism of Tiridates III of Armenia by Saint Gregory the Illuminator" on its fronton.
The premises were decorated according to Yu. M. Felten. The interior is decorated with magnificent monumental paintings, stucco moldings. Its walls, columns and floors glitter with colored marble.
After the revolution, the temple was closed and used for warehouses, offices, workshops. This led to the devastation and significant destruction. In 1992 the church was returned to the community, and the most complicated restoration of the building began. In 2000, the restored church was solemnly consecrated.
Индивидуальные экскурсии по городу и пригородам на автомобиле и минивэне
Петербург для тех, кто ценит комфорт и внимание
Заказать