Palace
Ensemble of Anchor Square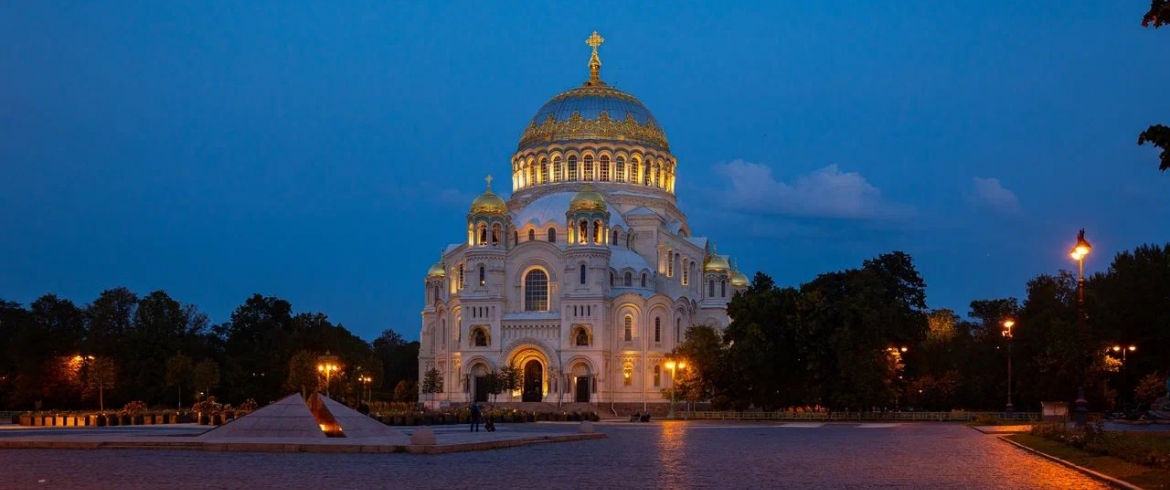 Anchor - the central square of the city of Kronstadt. It originates from the warehouse of anchors that existed here in 1754–1898 from decommissioned ships. A unique cast-iron pavement has survived here - perhaps the only one in Russia. The bridge length of about 200 meters consists of 15 thousand iron checkers.
The architectural dominant of the square is the Naval Cathedral of St. Nicholas the Wonderworker, built in 1903–1913 in neo-Byzantine style according to the design by V.А. Kosyakov.
In front of the cathedral stands a monument to an outstanding Russian naval commander, oceanographer, polar explorer, shipbuilder, Vice Admiral Stepan Osipovich Makarov (1849–1904). The monument was erected in 1913, its author is sculptor L.V. Sherwood.
The bronze figure of the navigator stands on the edge of a huge granite rock, and the stone sea wave that runs onto it resembles a Japanese dragon in outline, as a symbol of the death of S.O. Makarov on the battleship "Petropavlovsk" in 1904 during the defense of Port Arthur. The height of the sculpture is 3.55 meters, the height of the pedestal is 5 meters.
Also there is the Mass grave with the eternal flame and other monuments to the sailors who died in the Russian-Japanese, Civil and Great Patriotic War, on the Anchor Square.
На комфортабельных однопалубных и двухпалубных теплоходах
30
экскурсионных круизов по Неве, рекам и каналам
Купить билет