Palace
Ensemble of Lomonosov Square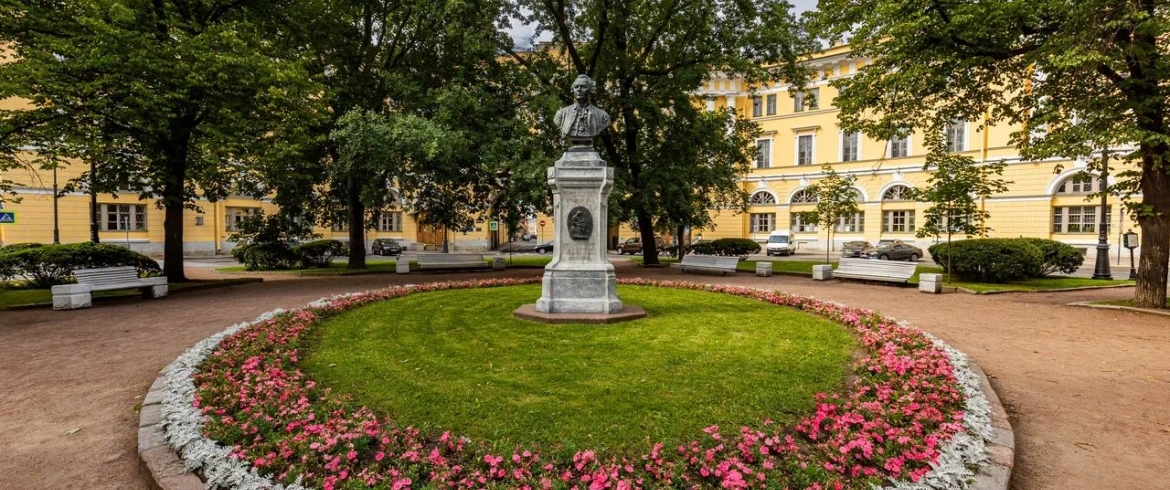 Years of foundation
1828–1834
Lomonosov Square (until 1948 - Chernysheva Square) is located on the embankment of the Fontanka River in front of the bridge of the same name.
Until the middle of the 18th century, this place was part of the Anichkov Palace estate, which stretched from Fontanka to Sadovaya Street. In the 1820s, the architect K.I. Rossi was entrusted with the redevelopment of this territory. In April 1828, his project was approved, which included the construction of the Alexandrinsky Theater, the construction of a passage from the theater to the Chernyshev Bridge (this street was named after Architect Rossi) and the creation of two squares - Alexandrinsky (now Ostrovsky Square) and Chernysheva (now Lomonosov sq.). Most of the work was completed by 1834.
Chernyshev Lane, bridge and square were named after the site, which at the beginning of the 18th century belonged to Count Pyotr Grigoryevich Chernyshev - diplomat, senator, godson of Peter I.
Chernyshev Lane - the current Lomonosov Street - overlooks a semicircular square through the arched building of the Ministry of Education. The house of the Ministry of the Interior stands out on the west side of the square. On the east side is his "twin" - the Directorate of the Imperial Theaters. In contrast to the lavishly decorated Alexandrinsky Theater, the facades on Chernysheva Square are distinguished by their laconic architecture.
In the 1870s, on the initiative of the famous St. Petersburg mayor F.F. Trepov in the center of the square a garden was designed, where in 1892 a bust of M.V. Lomonosov work of the sculptor P.P. Zabello was erected. Since 1948, the square bears the name of this great Russian scientist.
Индивидуальные экскурсии по городу и пригородам на автомобиле и минивэне
Петербург для тех, кто ценит комфорт и внимание
Заказать