Palace
Arts Square Ensemble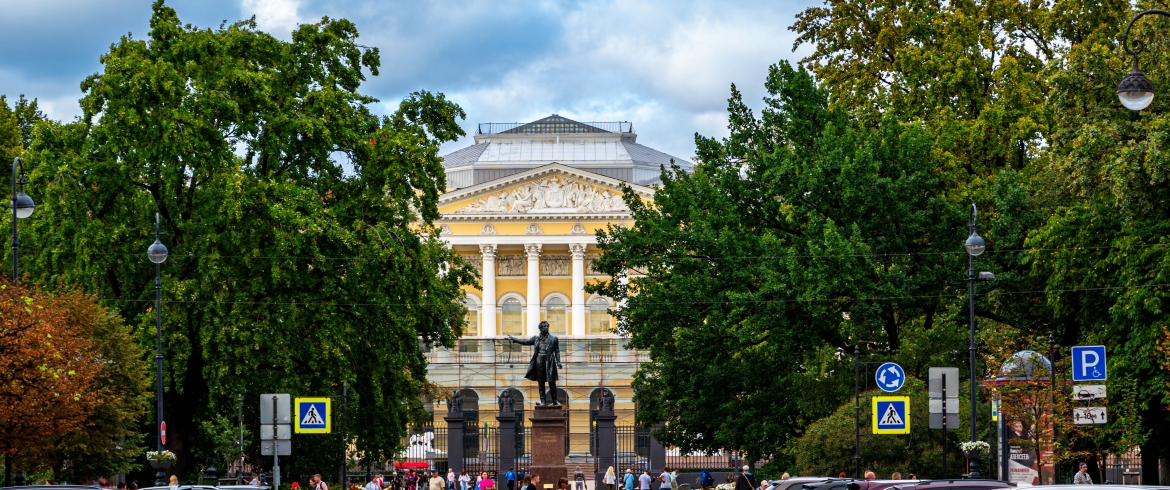 Years of foundation
1823-1830s
Bypassing the square counter-clockwise, starting from the Mikhailovsky Palace (the Russian Museum), you will consistently see: the Mikhailovsky Theater and the Golenishchev-Kutuzov House, the Jaco House and the St. Catherine's House, the building of the Europa Hotel, the Noble Assembly (now the Great Hall of the Shostakovich Philharmonic) the Lazarev House (now the Musical Comedy Theater), the Vielgorsky House, the Gymnasium building under the Russian Museum and the building of the Russian Ethnographic Museum.
The ensemble of the square was created in the first half of the XIX century according to the project of K.I. Rossi. Later, building up the square, other architects imitated this style for the facades of their buildings.
In Peter's time, the land under the modern square was intended for breaking up the Third Summer Garden, later there was a garden for hunting and a garden of the Summer Palace of Elizabeth Petrovna.
In 1823, when the construction of the Mikhailovsky Palace was coming to an end, K.I. Rossi made a plan to transform the surrounding area. The project included the square itself, the creation of the Engineering and Mikhailovskaya streets, and the extension of Sadovaya Street to the Mars Field. Oval Mikhailovsky Square was laid in the center of the square in 1827-1828. Since 1831, further construction of the perimeter has begun with other buildings. Rossi personally designed all the facades of buildings overlooking the square from the Italian and Mikhailovskaya streets.
Since 1834, the area was called Mikhailovskaya. In 1940, it received its current name, the Square of Arts.
In 1945-1951, a large-scale reconstruction of the Arts Square was carried out - the buildings returned to the same style. In 1957, in honor of the anniversary of the death of the poet in the center of the square, a monument to Pushkin by M.K. Anikushin appeared.
The International Winter Festival "Square of Arts" is held annually in the square, in which leading Russian and world classical performers take part.
The Square of Arts, part of the historic center of St. Petersburg, is included in the UNESCO World Heritage List.
Индивидуальные экскурсии по городу и пригородам на автомобиле и минивэне
Петербург для тех, кто ценит комфорт и внимание
Заказать