Palace
The ensemble of the Manezhnaya Square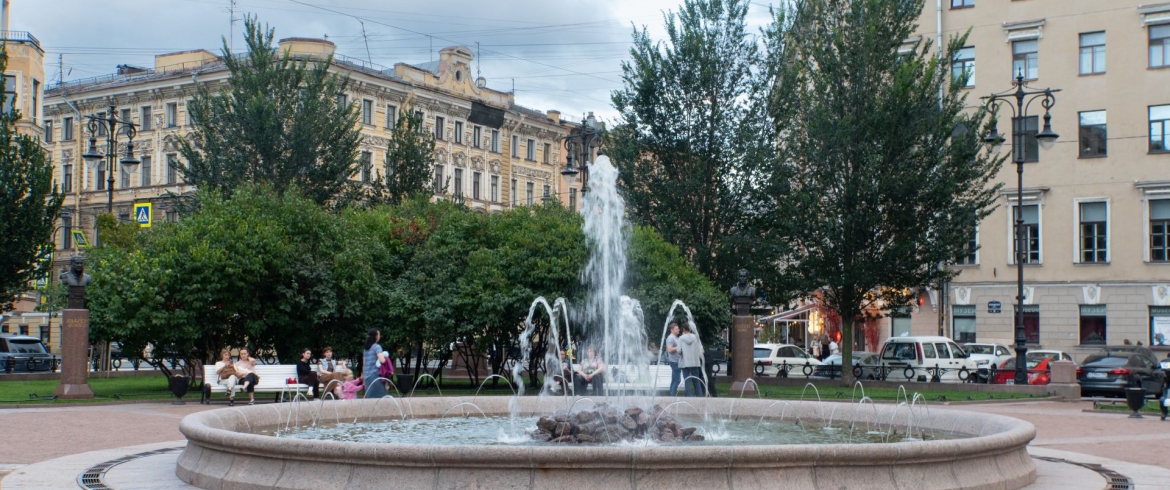 Address
Manezhnaya Square
Years of foundation
1798-1800 and 1823-1824
Architects
V.F. Brenna, K.I. Rossi
The emergence of the Manezhnaya Square is associated with the construction of the Mikhailovsky Castle, founded in 1797 by the decree of Emperor Paul I and became the place of his murder in 1801. To the south of the castle in 1798-1800, according to the project of architect V.F. Brenna stables and an arena, a building for the teaching of soldiers and military exercises, were built.
In 1823-1824, Carl Rossi reconstructed these buildings. The facades of the stables and the arena were linked together. United monolithic stone fences, they form a single composition. The facades of the buildings are decorated with bas-reliefs depicting weapons and armor.
The ensemble of the square was formed in the XIX-early XX century with the construction of the Caravan and Italian streets. In the center of the square was a landscape garden, which, in 1878, by the design of the architect V.A. Kenel was turned into a triangular square with a round pool and a fountain. In 1908, at the end of the Maple Alley, the building of the officer corps of His Imperial Majesty's convoy was built, which completed the architectural appearance of the Manege Square.
The square and the fountain in the center of the square were restored in 1999. And in 2003 there appeared busts of the great architects of St. Petersburg: K. Rossi, F. Rastrelli, D. Quarenghi. Sculptures are presented as a gift in honor of his 300th anniversary of St. Petersburg from the Italian sister city of Milan.
Индивидуальные экскурсии по городу и пригородам на автомобиле и минивэне
Петербург для тех, кто ценит комфорт и внимание
Заказать