Palace
The ensemble of the Konushennaya square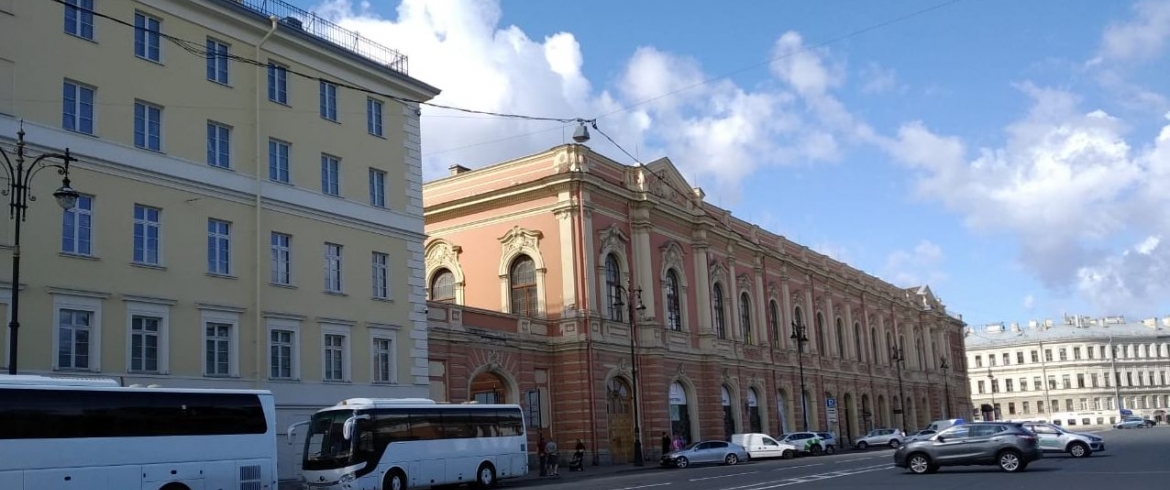 Address
Konushennaya square
Years of foundation
The building of the Court stables: 1720-1723 years; Stable courtyard: 1860
Architects
The building of the Court stables: N.F. Gerbel, V.P. Stasov; Stable courtyard: P.S. Sadovnikov
Style
The building of the Court stables: Classicism; Stable courtyard: Neo-Baroque
Stables area is one of the oldest in St. Petersburg. In Peter's time, there was a building of the Main Imperial Stables. The name of the square was given on August 20, 1739, after the Imperial Stable Court of Catherine I.
The square is framed: on one side there is a building of the Court stables with the Savior-Stables church, on the opposite - the Museum of the court crew (Stables yard).
The building of the court stables was built in 1721-1724 according to the project of N.F. Gerbel. Then it was rebuilt by the architect V.P. Stasov in 1817-1823 and the architect P.S. Gardeners in the 1860's. Complex building with a polygonal courtyard occupies the entire block between the river Moika, Konyushennaya square, and the Griboedov Canal.
In the center of the building is the Church of the Savior of the Holy Face, in which, on February 1, 1837, the death ceremony of A.S. Pushkin was held. At present, it is an active Orthodox church.
The building of the Museum of the court crew was built in 1858-1860 by the architect P.S. Sadovnikov. The museum was intended for the storage of the crews of the imperial family and suite. Some of the exhibits are now in the Hermitage. In Soviet times there were taxis in this building. Today there is a leisure and entertainment area with numerous cafes, clubs, and restaurants.
На комфортабельных однопалубных и двухпалубных теплоходах
30
экскурсионных круизов по Неве, рекам и каналам
Купить билет