Palace
The ensemble of the Palace Square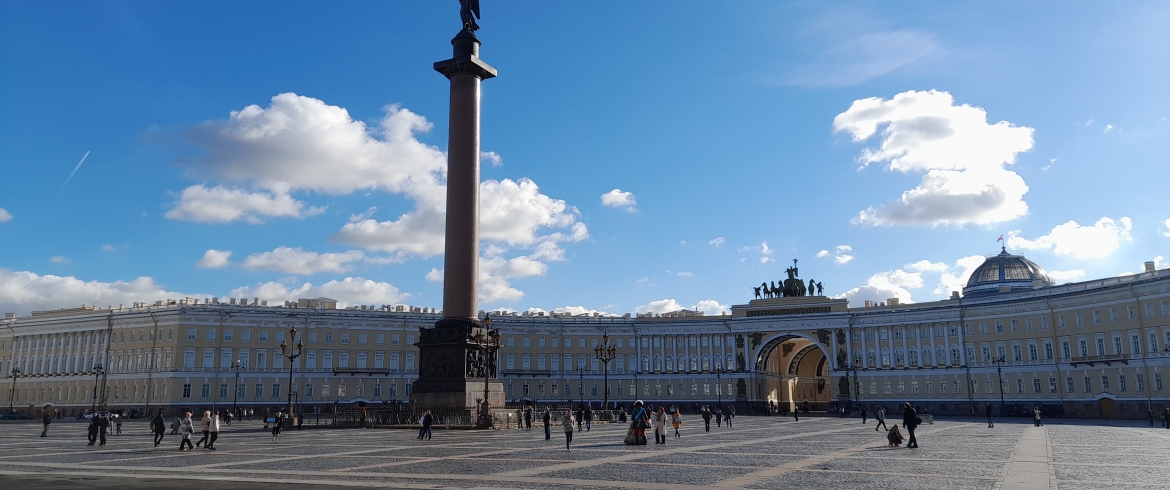 Years of foundation
Second half of the 18th century
Architects
B. Rastrelli, K.I. Rossi
Style
classicism, baroque
The Palace Square is bordered by the Winter Palace, a magnificent Baroque building, designed by Bartolomeo Rastrelli. Here the main expositions of the State Hermitage are located. From the windows of the southern facade of the Winter Palace, you can see a picturesque view of the Palace Square, the General Staff building, which also houses part of the Hermitage exhibition, the famous triumphal arch of Carlo Rossi and the headquarters of the Guards Corps.
In the center of the square the majestic granite Alexander Column (in Pushkin's poems it is immortalized as the "Alexandrian Pillar") stands, a monument to the courage of the Russian people in honor of the victory over the French in the Patriotic War. The column was installed in 1834 by the order of Emperor Nicholas I and the project of Auguste Montferrand. The peculiarity of the structure is that the granite monolith is not fixed in any way, and the huge column stands under its own weight.
It is interesting that in 2001, during the reconstruction of the Palace Square, archaeological excavations were carried out here, and the scientists managed to find the foundation left by the outbuilding of Anna Ioannovna built by Rastrelli after her death by the order of Empress Elizaveta Petrovna, for the future Tsar Peter III.
The Palace Square is twice the size of Moscow's Red Square, it occupies 4.6 hectares and is a pedestrian zone. The historic building of the square is included in the UNESCO World Heritage List.
По Санкт-Петербургу и туристическим пригородам — пешком, на автомобиле или минивэне
65
увлекательных индивидуальных экскурсий
Заказать